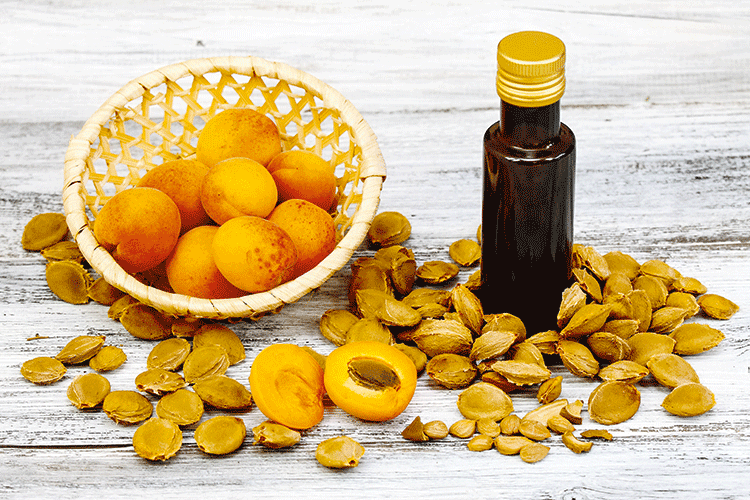 Whether they are produced from rapeseed or olives, high-quality cooking oils are now a fixture in our kitchens. But nature has even more to offer. The woody stone of the apricot contains a precious kernel. Marbacher Ölmühle uses this to make high quality apricot kernel oil and flour – a true asset in lots of ways.

Real treasure – hidden in a woody stone
They thrive and grow in the midst of the Turkish highlands, between the Caspian Sea and the Black Sea. It's an image that leaves an impression – tree upon tree, glittering here and there as their velvety skins reflect the warm sun's rays from the shade of the dark green leaves. Apricots – healthy, well-known and well-loved.
Fresh or processed – apricots are familiar to us all
Whether neatly arranged in rows, immersed in the sweet icing of a delicious cake or boiled, jellied and preserved as a fine jam – there are no limits to the versatility of apricots.

The long harvest period between May and ­September and various drying options mean that apricots are on our menu all year round. But they provide much more than their delicious fruit. Hidden inside the woody stone is a secret treasure – the apricot kernel.

It's important to distinguish between sweet and bitter apricot kernels here. The bitter seeds of wild ­apricots are primarily used in cosmetics.(1) They contain a high amount of amygdalin, which releases highly toxic hydrocyanic acid during the digestive process(2), making the seeds unsuitable for the food industry. In contrast, complex processing enables us to produce high-quality apricot kernel oil and flour from sweet apricot kernels.
Great care for best quality
So how is the woody apricot stone, which we ­normally dispose of with our organic waste, transformed into high-quality oil and flour? Based in Germany, ­Marbacher Ölmühle produces a varied range of cooking oils and flours. Each seed has specific characteristics that must be taken into account during the pressing process. On their arrival in Marbach, the apricot kernels have already undergone a number of important stages of production.
Each seed has specific characteristics that must be taken into account during the pressing process.
After the apricots have grown and matured in the eastern sun, they were harvested and pitted by the thousand. So how can we extract the valuable kernel? The stone is left to dry in the air first. Then it is cracked and sorted by hand – the only way to ensure the unwanted hard-shell fragments are completely removed.(3) Now the kernels are ready for the journey to Marbach, where they are processed into delicious virgin apricot kernel oil and high-quality de-oiled apricot kernel flour.

Gentle harvesting and hand-picking of the seeds are the first important step in producing an excellent end product. But the only way to create a distinctive, high-calibre apricot kernel oil or flour is by treating the raw materials with the greatest care throughout their further processing. Marbacher Ölmühle uses a cold pressing process to achieve this. Cold pressing means that there is no external heating and the ­pressing procedure is purely mechanical. Screw presses are also used at Marbacher Ölmühle: the gentle extraction preserves the valuable ingredients and the natural flavour in the oil. The result is a virgin apricot kernel oil – completely natural and of the highest quality.
Apricot kernel oil – a taste sensation with a health bonus
In addition to its unique fruity and nutty taste, the yellow-golden oil contains valuable ingredients.
Omega-6 fatty acids make up 25 % of the oil – unsat­urated fatty acids that the body cannot produce on
its own but are essential for important functions in the body. These include regulating blood pressure, lowering cholesterol levels or supporting growth and repair processes. Omega-6 fatty acids can also help prevent infections.(4)
Apricot flour – a protein booster
The apricot kernel has an oil content of about 40 – 50%. The material left after the kernel is pressed is known as the press cake. Marbacher Ölmühle grinds this into a high quality flour, which has a shelf life of up to 12 months. Like the oil, this apricot kernel flour also contains important nutrients. 100 grams contains around 51 grams of protein. At over 50 %, this is relatively high compared to other flours. The impressive protein content makes apricot kernel flour particularly attractive for a low-carb diet. It also contains 23 % fibre, the second most important nutrient group found in apricot kernel flour. Fibre is a delicacy for our intestinal bacteria, which make an essential contribution to a healthy gut flora.
The only way to create a distinctive, high-quality apricot kernel oil or flour is by treating the raw materials with the greatest care throughout their further processing.
Due to its good binding properties and wonderfully delicate marzipan flavour, this flour is ideal as a baking ingredient or to add to smoothies. The light brown to slightly reddish flour is lactose-free and suitable for vegans and lots of diets.
Make every meal special
Like the pearl in the mussel, the stone of the apricot also hides a real treasure: the kernel with its unique taste and its essential components. The oil and flour produced in Marbach – both high-quality products – offer the freedom to be creative and help turn every-day meals into culinary delights.
---
Further information

Sources
1) www.olionatura.de/oele-und-buttern/aprikosenkernoel
2) www.toxinfo.ch/367
3) www.aprikosenkerne.eu/herkunft-geschichte-und-anbau-bitterer-aprikosenkerne/
4) https://omega-3-fettsäuren.info/omega-3-6-und-9/