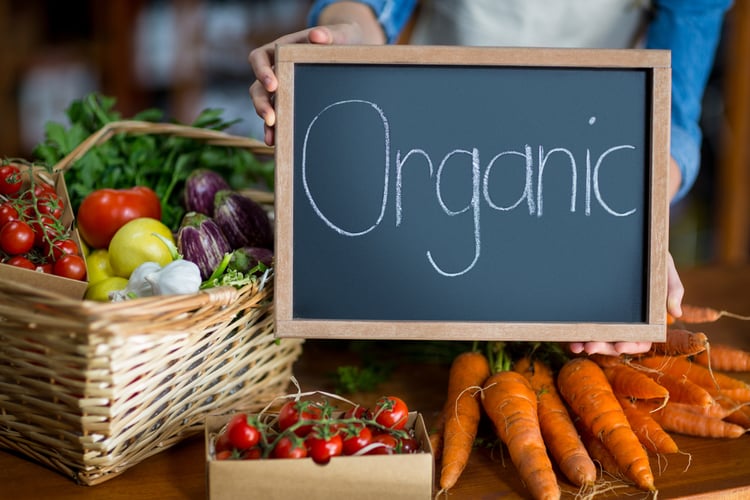 An increasing preoccupation with nutrition is ­reflected in the sales growth of organic foods.
Ecovia Intelligence estimated the global market for organic produce in 2018 at over 100 billion US dollars. And it is continuing to grow. (1)

Facts about
the organic market
Growth rates of organic acreage within one year (2018) in Asia were 8%; growth in North America was 3% and in Europe 9%.(2)

Globally, 1.5% of all farmland is cultivated organically. (2)

The countries with the largest organic share in 2018 – measured by their total agricultural area – were Liechtenstein (38.5%), Samoa (34.5%) and Austria (24.7%). Switzerland's organic share of 15.4% places it 10th in the global ranking. In Germany and France the organic share still lies at a little over 7%. (2)

There were 2.8 million organic producers worldwide in 2018. In terms of organic farmers, 47% of the total are located in Asia, followed by Africa with 28%, Europe with 15% and Latin America with 8%. (2)

India is the country with most organic farmers, with 1.5 million organic producers. Switzerland registered 7,032 producers in 2018. (2)

The largest organic markets in terms of sales were the United States (EUR 40.6 billion), followed by Germany (EUR 10.9 billion), France (EUR 9.1 billion) and China (EUR 8.1 billion) in 2018. Switzerland had sales of EUR 2.7 billion, placing it 7th globally. (2)

Per capita expenditure on organic food in 2018 was EUR 312 in Switzerland and Denmark, followed by Sweden and Luxembourg. (2)

In Germany, the organic market share grew by almost 5% in 2018; in France it increased by as much as 15%. The Czech Republic and Estonia had an impressive growth of 31%.(3)

Significantly more than half of all organic goods are now sold over the counters of food retailers; in Denmark it is over 90 percent. France is the only country to buck this trend, where the food trade market share is still under 50%. (3)

Organic food sales in Switzerland rose by 5.6% from 2018 to 2019 and have now reached a total volume of CHF 3.2 billion.(4)

In 2019, 57% of the Swiss population consumed organic products either each day or several times a week. (4)

In terms of sales, French-speaking Switzerland has a market share of 10.5% for organic products, overtaking German-speaking Switzerland for the first time (10.4%). Italian-speaking Switzerland had the lowest figure in 2019 at 8.9%. (4)

Above a certain level, the consumption of organic products is no longer related to income. While there is a continuous increase in the middle income classes, organic consumption decreases again in the upper income classes.(5)
Age does not influence organic consumption.(5)
Updated: 21-02-17


---
Further information
Sources
1) https://www.bauernzeitung.ch/artikel/mehr-bio-weltweit-4-fakten-zu-den-neusten-zahlen
2) FiBL& IFOAM – Organics International. The World of Organic Agriculture. Statistics & Emerging Trends 2020, ISBN PDF Version: 978-03736-159-7
3) https://www.biopress.de/debiolandbau-in-europa-und-weltweit
4) BIO SUISSE, Facts & Figures 2019
5) Hanna Stolz, Simon Blattert et al. Biobarometer Schweiz: Wovon die Kaufentscheidung für Biolebensmittel abhängt. Agrarforschung Schweiz 8 (2): 62-69, 2017.