---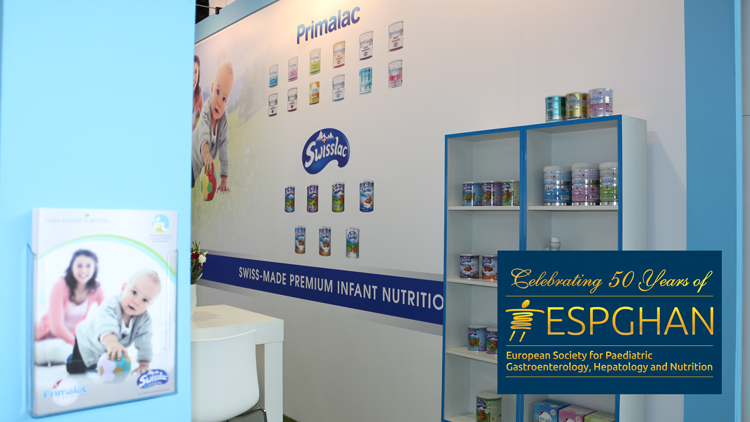 The European Society for Paediatric Gastroenterol­ogy Hepatology and Nutrition (ESPGHAN) is a multi-profession organisation, founded on 4 October 1968. It aims to promote children's health, with a particular focus on the gastrointestinal tract, the liver and the nutritional status.
To achieve this objective, ESPGHAN creates a platform to share knowledge and scientific information. It also promotes medical care and the provision of high-quality training for experts in paediatric gastorenterology, hepatology and nutrition in Europe and beyond.
A conferences takes place in May or June each year with the aim of providing information on nutrition-based topics such as infant formula, attended by paediatricians from all over the world.

This year the conference took place between from 10 -12 May in Geneva, Switzerland. For HOCHDORF and Pharmalys Laboratories SA, which is part of the HOCHDORF Group, this provided the opportunity take part with its own stand and to showcase its own infant formula brands "Primalac" and "Swisslac" to an international audience of specialists in its own country.
For more information, go to: www.espghan.org

---
Further information
---
Facts and figures
at a glance
ESPGHAN has celebrated its 50-year anniversary. The annual conference took place for the first time on 4 October 1968.
This year's event was attended by some 4,627 delegates from over 100 countries.
Over 53 exhibitors and 950 experts presented their latest research results.
During the conference, social media tweets with the hashtags #ESPGHAN and #ESPGHAN18 reached over 790,000 people.
The HOCHDORF and PHARMALYS stand covered an area of 50 m2 (10 by 5 metres) and a height of
5 metres.
HOCHDORF and PHARMALYS invited around 30 paediatricians to a varied programme of events over three days.
The ESPGHAN visitors consumed around 16 kilogrammes of finest Swiss chocolate at the HOCHDORF and PHARMALYS stand.
At HOCHDORF a core team of four employees spent six months working more or less intensively on preparing for the ESPGHAN.
The HOCHDORF Baby Care Division team consists of 20 enthusiastic experts in infant nutrition, specialising in development, nutrition and business.