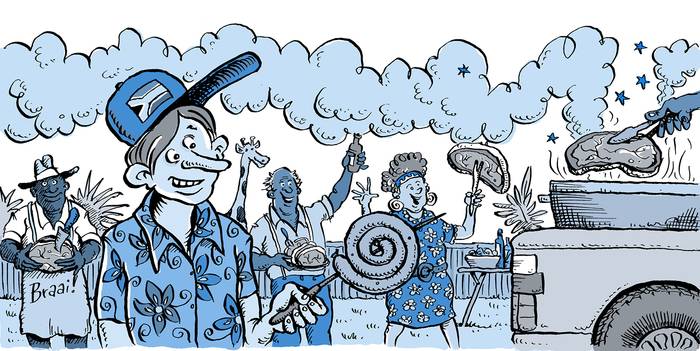 My business travel took me to the capital of South Africa this February. I had planned to go on a short safari on my last weekend but I had a change of heart. My business partner invited me to a garden grill party – a sign of great friendship in South Africa. Only rugby is more sacrosanct.
OF THE SOUTH AFRICAN BRAAI AND HOT WHEELS
"Come by at 2 p.m. with a piece of meat; we'll sort out the rest." I could hardly wait to ob­serve the African an­i­mal world from the grill-side. I rang the bell right on time. The lady of the house greeted me with the un­usual wel­come, "You are a bit early!" It would seem that ac­cord­ing to South African grill rules, 2 p.m. re­ally means late af­ter­noon: apart from my host's son, the rest of the guests ar­rived one after an­other from about 4 p.m. And the meat I had taken for the grill – a del­i­cate turkey breast – was also not quite what my host­ess had ex­pected.
She sheep­ishly thanked me and dis­ap­peared into the kitchen with it. In South Africa, turkey comes under the cat­e­gory of salad. And that's not some­thing you can bar­be­cue. So in­stead of the hot coals, my grill of­fer­ing landed in the fry­ing pan and ap­peared later with the var­i­ous side dishes guests had brought for the salad buf­fet.
To re­place my schnitzel, I was of­fered a spi­ral of rolled sausage made from an­te­lope meat. "It is a typ­i­cal ­speciality in our coun­try known as Bu­ren­wurst," my host ex­plained proudly, "and it tastes great spiced with co­rian­der, nut­meg and cloves."
Much more con­fus­ing to me that the rolled up Bu­ren­wurst – that could def­i­nitely be straight­ened out – was the lack of any grill. There was no fire in sight. How could there be a Braai with­out a flame? The word "bar­be­cue" is, in­ci­den­tally, taboo in South Africa. It's the most hal­lowed of all grills that is cel­e­brated here – the Braai! Pur­chas­ing char­coal goes against the high art form of the Braai. In­stead, the fire is tended lov­ingly for hours over a cool beer until the wood be­comes char­coal at just the right tem­per­a­ture. And the meat can only cook slowly. But it needs to be the right meat: red in colour and at least a kilo­gram in weight! Where I come from, every­one ner­vously dances round the grill, but the roles are clearly marked at the Braai – and in the hands of the men. Every­one can say what they think. But only one per­son can put their hand to it and turn the pre­cious pieces of meat – the Braai Mas­ter. But where was the Braai Mas­ter, in this case the host's son? And the grill? It was slowly be­com­ing dark and no-one seemed per­turbed. Until I sud­denly heard the sound of a loud horn and every­one hastily grabbed their meat! The Braai Mas­ter raced round the cor­ner in his styl­ish jeep, leav­ing a thick cloud of smoke in his wake. I couldn't be­lieve my eyes as I looked at the truck bed: there it was – our Braai!
The coals burned in fiery red per­fec­tion. The grill was ready and just had to be car­ried to the gar­den. I had to hand it to him – our Braai Mas­ter had made a ­blistering en­trance in his hot wheels!
Yours,