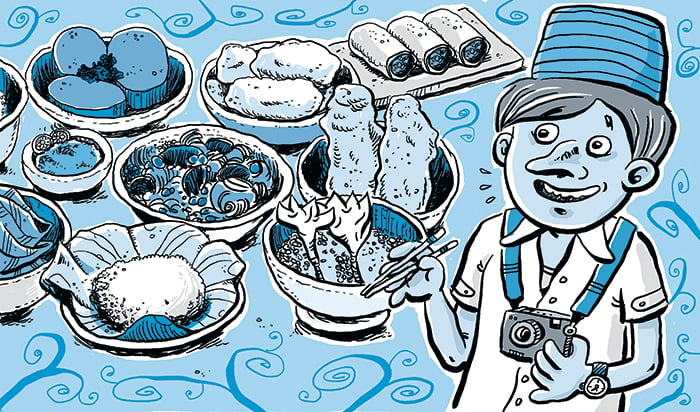 Two days ago I found myself in Jakarta, the largest city in South East Asia. I spent a delightful evening with two Indonesian business partners savouring a variety of spices, sauces and curries. Welcome to a culinary paradise!
My final evening in Jakarta. "To bid you farewell we are going out for a typ­i­cally In­done­sian meal," my two busi­ness part­ners beam. And our taxi comes to a halt in front of a lit­tle restau­rant off the main road. "Is this where you get typ­i­cal In­done­sian food?" I ask, a lit­tle con­fused, as we enter the restau­rant and sit down at a long table. The fam­ily own­ers greet me in Ba­hasa In­done­sia and Dutch; the cook bows for­mally and the walls are adorned with silk paint­ings of Chi­nese drag­ons. "This is In­done­sia, where many east­ern and west­ern cul­tures and re­li­gions meet," says one of my hosts with a smile. In­done­sians do a lot of smil­ing. I have never be­fore en­coun­tered so much laugh­ter in one place.
My busi­ness part­ners order an In­done­sian rice dish called "Ri­jstafel". Isn't that Dutch? I have guessed right. In­done­sia was part of the King­dom of the Nether­lands up to 1949. They tell me this is why In­done­sian dishes are often milder than in other Asian coun­tries.
I am look­ing for­ward to this "table of rice". The kitchen door swings open. I get quite a shock. The kitchen staff place one bowl after an­other on our table. 25 bowls and plates! Isn't it bor­ing with all that rice? A quick look and a sigh of re­lief! Only one bowl con­tains rice. A cor­nu­copia of foods and sauces is placed be­fore me. Be­side me there are peanut-coloured satay sticks, over there is a red chicken curry with pink prawn crack­ers and green veg­eta­bles – and sauces every­where. Green sauces, yel­low sauces, or­ange sauces, chilli sauces, co­conut sauces.
I take a lit­tle of every­thing and focus on try­ing it all. I feel like I'm in par­adise. Well, al­most. My busi­ness part­ners have sud­denly stopped smil­ing. The owner of the restau­rant is not smil­ing ei­ther. No­body is smil­ing! Oh no! My culi­nary reverie is sud­denly shat­tered. I had for­got­ten to smack my lips. It is con­sid­ered good man­ners in In­done­sia as a way of show­ing that you are en­joy­ing the food. I give it my best ef­fort and start smack­ing my lips as if my life de­pends on it. As loud as I can. We all smile again and nod at each other in ap­pre­ci­a­tion.
Yours,