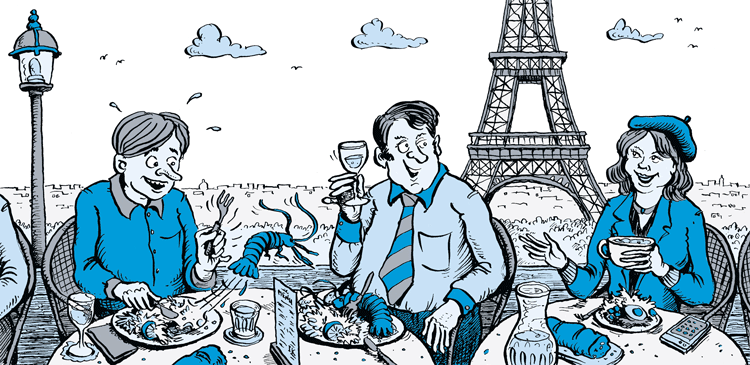 I had never been to Paris before. Then I received an invitation to a symposium in the French capital last October. I was really excited about visiting the city, with all its famous attractions and culinary delights.

As chance would have it, a friend from student days had recently moved to Paris. We quickly arranged a meal so we could enjoy an evening of reminiscence.

My friend greeted me with the news that he had reserved a table in a traditional gourmet restaurant just around the corner from where he lived. The place was almost full and the elegant waiter showed us to the last remaining seats. "You have to book a table weeks in advance," whispered my friend as he nodded to a charming French lady at the neighbouring table. She introduced herself as Catherine and we soon found ourselves in animated conversation.

Catherine advised us to try the catch of the day, fresh langoustines. My friend thought this was a great idea and so I chose the same dish, even though I wasn't really sure what he was ordering.

I could hardly believe my eyes when our main meal ­arrived: a plate of whole langoustines lying there, ­staring at me brazenly. I had had no previous experience with whole crustaceans. I would happily battle with the armour-plated creatures at home, but here, in this fine restaurant? I looked at my friend expectantly. As if it were the simplest thing he had ever attempted, he picked up his knife and fork and began to remove the langoustines from their shells with the precision and elegance of a fine surgeon. Then he proudly stole a glance in Catherine's direction.
Airborne seafood
I tried to do the same, looking not at Catherine, but rather at the langoustine itself. No sooner had I started my first hesitant cut than the blade slipped and the langoustine drew an arc through the air before landing unceremoniously on my friend's plate. He was so taken with the lady from the next table that he seemed not to notice what had happened. When he finally turned his attention to his food again he was astonished to see how much remained on his plate. "They seem to be multiplying as I eat them," he said, shaking his head and offering my langoustine, which was now his langoustine, to the charming lady. She was so delighted at this gesture that there was a quick exchange of business cards.
My friend, an erstwhile confirmed bachelor, and his delightful Parisian companion, are now very much an item. In Parisian restaurants it seems the guests quickly fall for each other and not just the delicious French cuisine.
Yours,