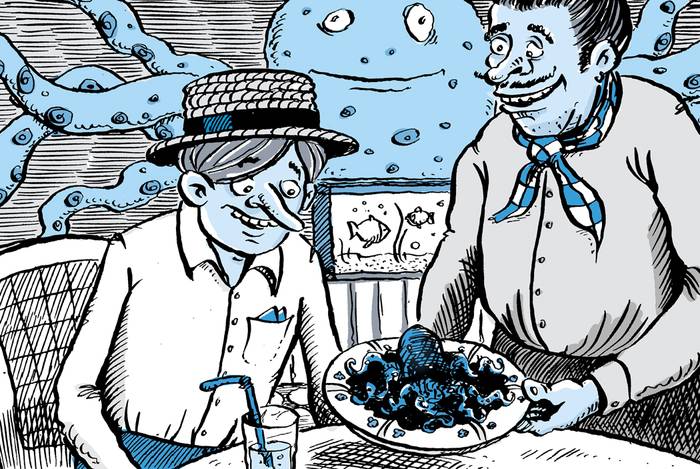 This April I visited my business partner in Lisbon, the capital of Portugal. I was enraptured by the sea and Neptune's black ink.
IN NEPTUNE'S INK
Even the road trip to Lis­bon was an ex­pe­ri­ence in it­self. I drove along the coast from the Al­garve to­wards the cap­i­tal. Sea as far as the eye can see – won­der­ful! And then I ap­proached my des­ti­na­tion, Lis­bon.
Only the gen­tly-flow­ing Tagus stood be­tween me and the sea­far­ing city. I slowly drove across the two-kilo­me­tre long, im­pres­sive sus­pen­sion bridge into the bustling old town for my ren­dezvous with my busi­ness part­ner. The plan was to enjoy a typ­i­cal Por­tuguese evening meal and to dis­cuss our pro­jects.
I parked the car and took one of the many cable cars that weave their way through the nar­row, fishy-smelling streets in the old town. I got out in the mid­dle of the old Alfama dis­trict and con­tin­ued my jour­ney on foot. In front of the houses, on the pave­ment, old ladies cre­ated plumes of smoke as they fried ba­cal­hau – salted cod – on char­coal grills.
I ring at an azure-tiled house and climb the nar­row stair­case to my busi­ness part­ner's pent­house. "Come on, let's sit out on the ter­race and enjoy the sun­set." And then my breath is taken away: count­less salted cod are danc­ing in the wind, hung out in neat rows on my host's wash­ing line. "Dried salted cod is our na­tional dish, we even use it for desserts," he laughs. "I leave the fish to dry out in the open air for about five months, just as our sea­far­ers used to do." He gives me a piece to taste. "It smells a lit­tle strong," I say. "Claro!" chor­tles my busi­ness part­ner. "Be­fore eat­ing the fish, we water it for a few days, which makes it a lit­tle milder. Now let's go and eat."
The room we enter at the restau­rant is im­bued with the smell of salted fish. At the table I am ­confronted by peo­ple with scar­ily black­ened teeth. "It's like ­Halloween," I think to my­self and order a plate of tapas with salted cod balls and a choco­late dessert. After all those fishy smells, I need some­thing sweet. "Com tinta?" the waiter asks. I nod my as­sent be­cause the pitch-black cof­fee is the per­fect match for the choco­late.
The waiter serves up a dessert, which is total in its black­ness: squid in black ink sauce! Now I know where the guests get their black teeth and what is meant by Choco com tinta. "You've made a good choice," my busi­ness friend ex­plains. "Well, my ­dessert choice ­really was a stab in the dark," I reply, "but it tastes good". And we have a good laugh ­ about my question­able lan­guage skills.
The next morn­ing I have to smile as I find a few ink stains on my white shirt. Last night's dessert re­ally was like bathing in Nep­tune's ink.
Yours,