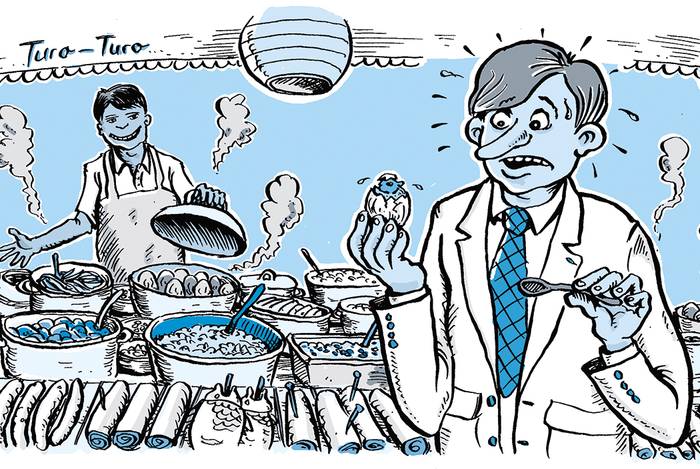 This October I spent a few days on busi­ness in Manila in the Philippines. The diversity of food on offer in the capital city really took me by surprise.
A BREAKFAST SURPRISE
My culi­nary voy­age of dis­cov­ery be­gins on the very first evening of my stay when my Fil­ipino busi­ness part­ner kindly picks me up at the air­port. "Are you hun­gry?" he asks. As a lover of Asian cook­ing and a new­comer to the Philip­pines, I can hardly con­tain my ex­cite­ment. On the drive into town, he ex­plains how East­ern and West­ern cui­sine meet in per­fect har­mony in his home­town. As well as re­gional spe­cial­i­ties from the coun­try's dif­fer­ent eth­nic groups, some dishes also date back to colo­nial times. The Span­ish brought tapas into the coun­try and then came the Amer­i­cans with their burg­ers and hot dogs. Of course, it's the Fil­ipino spe­cial­i­ties that in­ter­est me most. The per­son on the table next to me rec­om­mends kini­law. It's a raw fish del­i­cacy, mar­i­nated in vine­gar, with gin­ger, gar­lic and chilli. It is served with rice sea­soned with gar­lic. I try both – very agree­able and sur­pris­ingly mild for an Asian dish. It dates back to colo­nial times. My com­pan­ion gives me a few more tips be­fore we say good­bye for the evening. Fil­ipinos have a very strong street food cul­ture. The street ven­dors are called turo-turo and you put your own menu to­gether by point­ing at the dishes you want to try (the word turo means to point). I'm re­ally keen to taste Fil­ipino man­goes – con­sid­ered to be the best in the world.
And the next morn­ing I pass on the con­ti­nen­tal break­fast at the hotel and try a turo-turo. Once I have over­come my ini­tial ret­i­cence – I'm not ac­cus­tomed to gaz­ing into cook­ing pots and then point­ing at what I want – the aroma of gar­lic rice wafts to­wards me. There is also fish, sausages, ke­babs and pan­cake rolls – not ex­actly my typ­i­cal break­fast! I opt for the pan­cake rolls, the lit­tle sausages and I also dis­cover a pot with eggs. To quench my thirst, I point at the green co­conut juice. De­li­cious! It's not the sausages that make feel a lit­tle queasy – they re­mind me of Span­ish chorizo – it's my sup­posed break­fast egg...
I ar­rive at the morn­ing's first meet­ing with beads of sweat on my fore­head, feel­ing some­what green around the gills. My Fil­ipino busi­ness part­ner is a lit­tle con­cerned for my well-be­ing. "Are you not feel­ing well?" he asks. "No, I'm fine," I as­sure him, but I have to tell him about my street food ad­ven­ture. I couldn't be­lieve my eyes when I cracked open what ap­peared to be a nor­mal break­fast egg: out popped a duck em­bryo that was al­most ready to hatch! Had they sold me a bad egg? My busi­ness part­ner sets the record straight with a grin: balut is a tra­di­tional Fil­ipino snack. They are, in­deed, al­most fully in­cu­bated ducks eggs that are cooked for 20 to 30 min­utes. You are meant to slurp the liq­uid from the egg first and then eat the solid part. But I didn't need to worry too much – in the Philip­pines it's not con­sid­ered im­po­lite to leave some food un­eaten!
Yours,