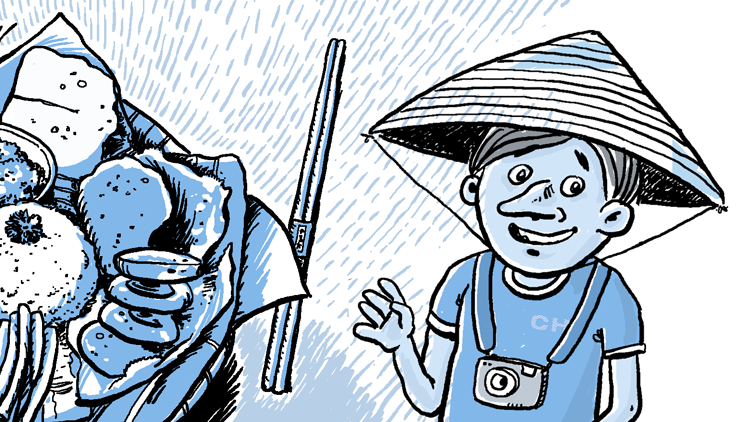 A few weeks ago I visited Shanghai for the first time. My Chinese hosts invited me to one of the best restaurants, where I baffled the locals with my Western table manners.

CLEARING MY PLATE AT THE ROUND TABLE
I'd barely en­tered the restau­rant when I made my first mis­take. Anx­ious to avoid later dis­rup­tions to the meal, I made a point of seek­ing out the toi­lets on the ground floor be­fore we took our places at the table. It wasn't until later that I un­der­stood the in­cred­u­lous looks of my hosts. In China it is con­sid­ered good form to re­serve a table in one of the small sin­gle rooms in the upper floors: peo­ple like to dine and do busi­ness in a dis­creet set­ting, with each sep­a­rate group en­joy­ing its own, quiet space. When I asked why all the ta­bles were round in this restau­rant my hosts were prob­a­bly se­cretly ques­tion­ing my san­ity. Ta­bles have only ever been round in China – edges and cor­ners spoil the har­mony and are there­fore con­sid­ered taboo.
Un­like us, the Chi­nese enjoy an in­cred­i­bly var­ied diet so dishes such as bat­tered scor­pi­ons, sea cu­cum­bers and cow-stom­ach soup were com­pletely novel to me – and just a lit­tle sus­pect. I wanted to err on the side of cau­tion and order some­thing sim­ple. But that plan came to noth­ing. Peo­ple don't order in­di­vid­ual meals in China. In­stead, every­one or­ders for every­one else and every­thing is shared. So the most var­ied dishes were de­liv­ered to the table in unimag­in­able quan­ti­ties. To this day I still have no idea what some of the del­i­ca­cies of­fered to me ac­tu­ally were.
To avoid of­fend­ing my hosts, I took pains to en­sure that I cleaned my plate re­gard­less of what was placed be­fore me. A fatal error. While my fel­low din­ers took me for an in­cor­ri­gi­ble gour­mand and im­me­di­ately or­dered me sec­ond, third and fourth help­ings, I was up all night with in­di­ges­tion. I just re­alised too late that it would have been a great source of shame to my hosts for me to leave an empty plate. Chi­nese eti­quette dic­tates that por- tions should never be con­sid­ered too small.
The Chi­nese love to eat and take great plea­sure in food. Hence the oc­ca­sional slurp­ing, burp­ing and speak­ing with a full mouth. In con­trast to Eu­rope, noisy eat­ing is not con­sid­ered bad table man­ners. The same goes for smok­ing at the table, but when I blew my nose, which was a lit­tle ir­ri­tated by the smoke, the glee­fully gob­bling group fell abruptly silent. I had caused my fel­low din­ners to feel em­bar­rassed. In Chi­nese so­ci­ety, blow­ing your nose in pub­lic is un­ac­cept­able and some­thing you never do at the table – dis­creetly in the bath­room, if you must. For­tu­nately my busi­ness part­ner has paid sev­eral vis­its to Eu­rope and was there­fore able to cor­rect these er­rors and other lapses on my part – such as stick­ing my chop­sticks in the rice – so that I es­caped by ap­pear­ing tact­less and with­out suf­fer­ing a com­plete loss of face. And why tact­less? The way I used the chop­sticks is only per­mis­si­ble at fu­ner­als.
I will soon be off on my trav­els again. I look for­ward to dis­cov­er­ing new cus­toms and I hope to have learned some­thing from the many slips I made in Shang­hai.
Yours,