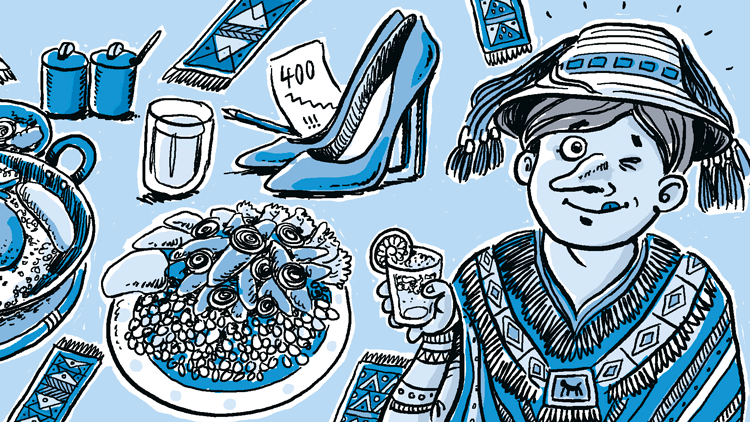 This June I was on business in Lima, the capital of Peru. The drive from the airport to the hotel was an experience in itself.

SUSHI ROCKS ALL OVER THE WORLD
There are swarms of taxis in Lima so it was chaos at the air­port. Half the res­i­dents of Lima seemed to want to take me to my hotel – and Lima has a pop­u­la­tion of 7 mil­lion! I felt like a rock star. And my taxi dri­ver was buzzing too as he set off with me in the back. He skil­fully nav­i­gated his way around cars, pot­holes and pedes­tri­ans even though the road kept nar­row­ing from six to three lanes every few sec­onds – and then widen­ing again to six. I held on to my seat with both hands, sweat­ing blood, as my dri­ver per­formed a care­free slalom with just one hand on the wheel. His other hand honked the horn non­stop.
After such a hec­tic start, I was look­ing for­ward to a re­laxed Sun­day af­ter­noon with my two busi­ness col­leagues. We arranged to meet for drinks at a pleas­ant beach bar. My two friends rec­om­mended a Pisco Sour cock­tail, Peru's na­tional drink. It con­sists of grape brandy, lime juice, sugar and egg white. I have to admit that the cock­tail hit me like a train. I felt a lit­tle light-headed after just one. "You'd bet­ter not have an­other," ad­vised my laugh­ing col­leagues and pointed up to one of the many restau­rants carved into the steep cliffs of Lima's coast like ea­gles' nests. "Today is na­tional ce­viche day, so the meal is on us. But first we have to climb 400 steps." I was as­ton­ished, to put it mildly. The two women were sport­ing el­e­gant high heels, as do most of the women in Lima. And I'm not talk­ing about any old high heels! In Lima, they have to be at least 12 cen­time­tres high to earn the name.
I reached the top last, de­spite my flat shoes. High heels seem to be the Pe­ru­vian equiv­a­lent of Swiss climb­ing boots! "So who was this Ce­viche?" I asked once I'd got my breath back. They fell about laugh­ing. They told me that ce­viche was their na­tional dish, the Pe­ru­vian ver­sion of sushi. It con­sists of wafer-thin cuts of raw fish, which is mar­i­nated in lime juice, raw onion, co­rian­der, chilli and salt. You can buy it on every street cor­ner in Peru and there are count­less dif­fer­ent takes on the dish. Un­like sushi, the lime juice de­nat­u­rates the fish, so it is cooked in the acid. I was as­ton­ished once again. I had al­ways thought of raw fish as Japan's na­tional dish.
My ce­viche tasted like heaven and was gar­nished with fresh co­rian­der and cherry toma­toes − my favourites. I im­me­di­ately tucked in. My col­leagues were awestruck. But it was too late. The cherry tomato set my mouth on fire! "That's Pe­ru­vian ro­coto chilli, oth­er­wise known as the gringo killer," said my apolo­getic hosts. "Un­like the usual chill­ies, they are round in­stead of long!" So I was glad to be able to quell the fire on my tongue with an­other cou­ple of Pisco Sour cock­tails. Never mind the 400-step de­scent!
Yours,