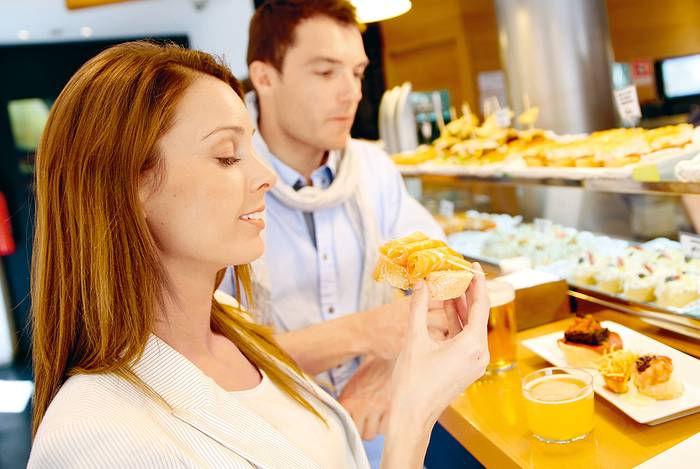 Are snacks really a 21st century phenomenon? Even our ancestors snacked between meals or ate their kill on the spot. The main difference between snacking then and our habits today relates to the easy availability of snacks and what they contain – modern snacks are often packed with calories. But it doesn't have to be that way if you choose the right ingredients.

For thou­sands of years, we didn't re­ally have reg­u­lar meals; we ate when we were hun­gry and re­lied on our good for­tune as hunter-gath­er­ers. Man for­aged and hunted, then ate on the spot. The first move to­wards reg­u­lar meals as a com­mu­nal ex­pe­ri­ence began with the dis­cov­ery of fire and under cover of dark­ness (1). With rel­a­tively lit­tle ev­i­dence avail­able, how­ever, we can only make as­sump­tions about life in the stone age.
The switch from fre­quent snacks to at least two fixed meal­times each day was a rel­a­tively re­cent de­vel­op­ment in our his­tory – pre­sumed to be around 7,000 years ago with the ad­vent of agri­cul­ture and live­stock breed­ing. Com­mu­nal meals at set times of the day be­came a so­cial cor­ner­stone of liv­ing to­gether.
Fixed meal­times re­in­forced hi­er­ar­chies
The pa­tri­arch or head of a fam­ily-like group gath­ered his fam­ily and ser­vants around him sev­eral times each day for main meals or snacks, re­in­forc­ing his po­si­tion of power in the mi­cro-econ­omy (2). This was re­flected in the strict seat­ing arrange­ments of the time: the pa­tri­arch and his wife dined at the top of the table; the lower rank­ing mem­bers of the group, such as the maids and serfs, sat at the op­po­site end of the table.
In the 19th cen­tury, in­dus­tri­al­i­sa­tion brought sig­nif­i­cant changes both to the ways in which meal­times had evolved and to the so­cial struc­ture of the fam­ily group. Women and chil­dren began to work in the fac­to­ries. Women were well in­te­grated into work­ing life and in­creas­ingly took on the role of provider. The pa­tri­ar­chal sys­tem began to dis­in­te­grate in the lower reaches of so­ci­ety. A fam­ily's daily rou­tine was no longer de­ter­mined by the head of the fam­ily, but by shift plans and ma­chines (3). Com­mu­nal meals were re­placed by in­di­vid­ual snacks. After World War II, how­ever, most women headed back to the kitchen again, pro­vid­ing their fam­i­lies with home-cooked meals in the main (4).
New so­cial struc­tures and greater mo­bil­ity lead to in­di­vid­u­alised eat­ing habits
Since the end of the 60s, the tra­di­tional fam­ily has steadily changed. Women have re­gained a strong foothold in the world of work. The clas­sic fam­ily model with the fa­ther as the main provider has be­come ob­so­lete; the num­ber of peo­ple who live alone or in small fam­i­lies is con­tin­u­ally in­creas­ing in the west­ern world (5).
In the 21st cen­tury, ad­vances in dig­i­tal tech­nolo­gies and the pro­lif­er­a­tion of apps are mak­ing huge in­roads into our rou­tines. They have sim­pli­fied and trans­formed al­most every as­pect of our lives. We ben­e­fit from lim­it­less free­dom and op­por­tu­nity: we can now si­mul­ta­ne­ously work, learn, pur­sue so­cial ac­tiv­i­ties and even order a pizza, re­gard­less of where we are or the time of day.
But one thing has be­come more dif­fi­cult in the past ten years: plan­ning com­mu­nal meal­times. How we split our time be­tween our work and pri­vate lives varies from per­son to per­son and has a huge in­flu­ence on our eat­ing habits The prepa­ra­tion re­quired for three clas­sic meals a day now faces com­pe­ti­tion from more at­trac­tive propo­si­tions. Tak­ing time to cook and eat­ing fixed meals are in­creas­ingly seen as an un­nec­es­sary bur­den to be avoided. Just as in by­gone times, our daily food in­take once more takes the form of many small snacks. They free us from time-con­sum­ing prepa­ra­tion, wait­ing time (6, 7) and for­mal, struc­tured eat­ing rit­u­als. We eat as the op­por­tu­nity arises: sit­ting down or on our feet, with our with­out cut­lery. When­ever we like, wher­ever we are.
The mar­ket for healthy snacks con­tin­ues to grow
Con­sumer be­hav­iour and the grow­ing mar­ket vol­umes of snacks show that they are re­plac­ing tra­di­tional meals. In par­al­lel with this, in­creas­ing num­bers of peo­ple in the new mil­len­nium are in­ter­ested in healthy eat­ing and keep­ing their weight down.
But what are the im­pli­ca­tions of the grow­ing in­ter­est in healthy eat­ing for snack and food pro­duc­ers? We have to react quickly and move with the times, in­vest­ing in healthy yet also in­no­v­a­tive in­gre­di­ents.
"How we split our time varies from per­son to per­son and has a huge in­flu­ence on our eat­ing habits."
Snack­ing in old age also helps pre­vent mal­nu­tri­tion
Yet we often for­get that snacks are as im­por­tant for old peo­ple as they are for chil­dren. Be­yond a cer­tain age there is a fall in our ap­petite and de­sire to take in liq­uid. To avoid mal­nu­tri­tion, ex­perts in geri­atrics rec­om­mend snacks as a form of pre­ven­tion (8). It is there­fore im­por­tant to in­cor­po­rate sev­eral snacks into the daily rit­ual of older peo­ple. El­derly peo­ple should con­sciously take a cof­fee break in the late morn­ing and at least one small snack in the af­ter­noon. There are many ideas for healthy snacks: whole grain snacks, pro­tein-rich ce­re­als with dried fruit or nuts and var­i­ous milk prod­ucts, such as yo­ghurt and cheese.
Ir­re­spec­tive of whether or not we are fans of snacks, their mo­men­tum is un­stop­pable. Snack­ing is and al­ways has been part of our eat­ing cul­ture. In evo­lu­tion­ary terms, snack­ing has been a nat­ural habit since time im­memo­r­ial. And now it's time to focus more on healthy snack­ing.
---
Fur­ther In­for­ma­tion
Sources
1) Hirschfelder Gun­ther. Europäische Es­skul­tur. Eine Geschichte der Ernährung von der Steinzeit bis heute. Cam­pus Ver­lag Frank­furt a/Main. ISBN: 3-593-36815-3.
2) Schlegel-Matthies Kirsten (1996). Zum Wan­del der Es­skul­tur in Deutsch­land. Auszug aus dem Tagungsreader Ernährungskul­tur im Wan­del der Zeiten.
3) Hirschfelder Gun­ther; Trum­mer Manuel. Essen und Trinken. In: Europäische Geschichte On­line (EGO), pub­lished by Leib­niz-In­sti­tut für Europäische Geschichte (IEG), Mainz 2013-06-26. www.ieg-ego.eu/hirschfelderg-trummerm-2013-de URN:urn:nbn:de:0159-2013061807 (2016-06-20).
4) Kelm So­phie. Apotheken-Um­schau: Es­s­ge­wohn­heiten heute und vor 50 Jahren. Pub­lished on 27.4.2012.
5)www.bfs.admin.ch/bfs/portal/de/index/regionen/thematische_karten/gleichstellungsatlas/familien_und_haushaltsformen.html (2016-06-23).
6) Schönberger G (2011). Mahlzeiten neu denken. In: Schönberger G et al. Mahlzeiten: Alte Last oder neue Lust? Wies­baden, 39-52.
7) Reisch L. (2012). Gesund­heit, Essen und Nach­haltigkeit. An­forderun­gen an die Ernährungsaufklärung. Akt Er­naehrungsmed 37, 343–348.
8) Imober­dorf Rein­hard et al. Man­gel­ernährung im Alter. Schweiz Med Forum 2014;14(49):932–936