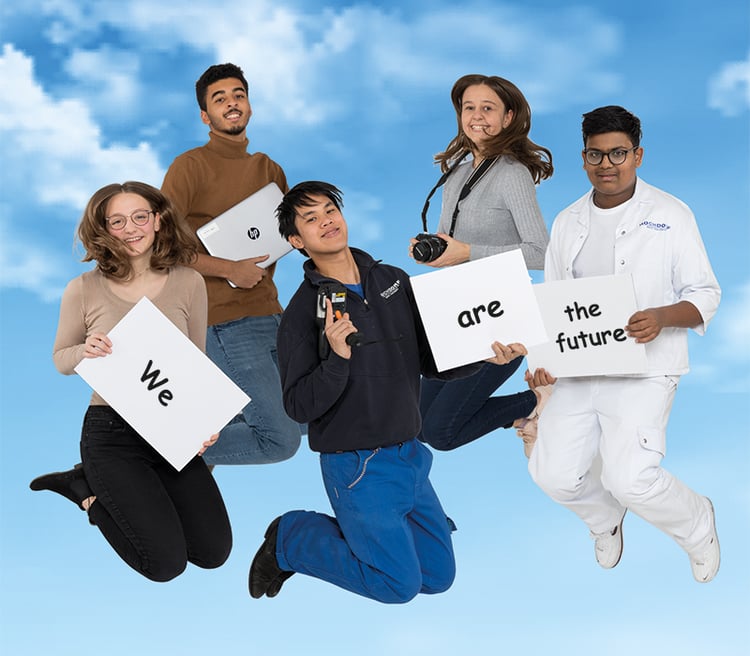 HOCHDORF provides around 620 employees with exciting professional opportunities in an international environment. The daily actions of all employees are shaped by our BEST PARTNER vision. That is why we are constantly expanding our knowledge. Apprenticeship training is also very important to us.
Employees are the heart beat of our company
HOCHDORF employees develop, produce and sell various dried milk and infant formula products produced from Swiss milk and exported all over the world. The staff who work at HOCHDORF experience the fusion of Swiss tradition and international flair. After all, HOCHDORF was founded in 1895 as a milk export company!
Diverse employer
Our target markets are global and diverse – and the same applies to our employees and their professions. As of the end of 2019, HOCHDORF employed staff from 26 countries. Almost two-thirds of the 620-strong workforce is based in Switzerland. Many of them work across different locations and travel internationally.
The first commercial apprenticeship contract was signed in 1901. HOCHDORF has been a training company since. Today HOCHDORF trains 39 apprentices in 15 different professions.
From dairy or food technologists to office and sales staff and to production and laboratory employees – HOCHDORF offers its staff a wide range of career opportunities. The work is diverse, exciting and challenging. The milk industry changes constantly and the requirements for infant formula must be continually adapted to the latest scientific findings.
BEST PARTNER commitment
Every day, our employees make every effort to live out our BEST PARTNER vision in how they interact with each other and with our customers and suppliers. Employees striving for a BEST PARTNER standard need to perform well, striving for their best in everything they do. HOCHDORF is delighted by the commitment of its employees and supports this with training, education and other initiatives.
Our trainees
HOCHDORF trains 39 apprentices in 15 different professions. They are supported and mentored by experienced employees. HOCHDORF is committed to training the professionals of tomorrow. Many employees have also already completed their training at HOCHDORF and are still an important part of the company today.
Healthy pension fund
HOCHDORF has its own pension fund. It is positioned very solidly and operates successfully. The pension fund is managed by a committee of employer and employee representatives. Employees have the flexibility to take their pension between the ages of 58 and 70.
HOCHDORF has always been an attractive employer
Until well into the second half of the 20th century, experts had to be recruited from all parts of the country. Many employees remained loyal to the company and worked for it throughout their careers. It was not unusual for two or even three generations of the same family or different siblings to be part of the HOCHDORF team. Greater mobility from the end of the 20th century changed these structures.
---
Caption
Food technicians and practitioners, logistics specialists, ICT experts, mediamaticians or sales staff. HOCHDORF provides training in the most diverse professions. Jaël Christen, Kevin Didi, Jetwin Ly, Anita Barmettler, Harrish Rathis ( from left ). (Photography Brigit Willimann)