The Swiss milk market is in a state of flux. New organisations, guidelines and rules have come into effect that all influence the milk powder market. This article will attempt to explain current market conditions.

Daisy the cow couldn't care less about mar­ket con­di­tions. She du­ti­fully pro­vides her daily milk: some­times a lit­tle more, some­times a lit­tle less; some­times con­tain­ing a lit­tle more fat and some­times a lit­tle less. She doesn't pro­vide A, B, nor C milk; she just pro­vides milk. The var­i­ous milk seg­ments may be mean­ing­less to Daisy but they are of great im­por­tance to us as milk pow­der pro­duc­ers. They in­flu­ence both our pro­duc­tion and our strat­egy – and cause quite a few headaches in the milk in­dus­try now and again. But not for Daisy; she just keeps on chew­ing her sweet grass and pro­duc­ing the best Swiss milk.
An im­por­tant player in the milk pow­der mar­ket
Daisy also has lit­tle in­ter­est in what we make with her pre­cious raw ma­te­r­ial and how the re­sult­ing prod­ucts are used. In the HOCHDORF Group, for in­stance, we process around ten per cent of all Swiss milk into var­i­ous milk pow­der prod­ucts and cream. This makes us, along with Emmi and Cremo, one of the three key play­ers on the Swiss mar­ket for milk pow­der. Of the three com­pa­nies, how­ever, we are the only one to focus our at­ten­tion on the milk pow­der mar­ket it­self. The pro­duc­tion of var­i­ous milk- based pow­ders is one of our key areas of ex­per­tise.
Be­com­ing an ex­pert in spe­cialised pow­ders
But let's go back to the start again. In Switzer­land around 550,000 cows pro­duce ap­prox­i­mately 3.4 bil­lion kilo­grammes of milk each year. This pre­cious raw ma­te­r­ial is processed into milk pow­ders, fresh milk prod­ucts, cheese, but­ter and other prod­ucts. The HOCHDORF Group pur­chases milk from its di­rect sup­pli­ers and from var­i­ous milk pro­ducer or­gan­i­sa­tions. But it is not a reg­u­lar sup­ply. The busiest time for the pro­cess­ing plants is be­tween mid-March and mid-May, when the cows pro­duce more milk, in large part due to the fresh and nu­tri­tious grass avail­able at this time of year. The cows are all in the val­ley then be­cause the Alps are still cov­ered in snow. This time poses a sig­nif­i­cant an­nual chal­lenge for the HOCHDORF Group, with man and ma­chine both work­ing at full ca­pac­ity. But times have changed nonethe­less.
The HOCHDORF Group is de­vel­op­ing into a milk pro­ducer that op­er­ates its plants at full ca­pac­ity all year round to cre­ate high-value prod­ucts. We have been push­ing the area of in­fant for­mula since 2006 to this end and are about to em­bark on lac­tose and whey pro­tein pro­duc­tion. As a re­sult we are also dry­ing more prod­ucts that con­tain lit­tle or no fresh milk. Nonethe­less, the HOCHDORF Group will con­tinue to play its part in the prompt pro­cess­ing of spring milk quan­ti­ties in the fu­ture.
A, B and C milk
Di­vid­ing milk into the three seg­ments of A, B and C milk, has noth­ing to do with qual­ity; it re­lates en­tirely to mar­ket­ing op­tions. In times of sur­plus it is not pos­si­ble to sell all the milk within Switzer­land. In order to sell milk on the in­ter­na­tional mar­ket, it has to be pur­chased at com­pet­i­tive prices. If the milk fat is mar­keted in Switzer­land, the milk pro­ducer gets the B milk price. If all the milk is for ex­port – for in­stance as full milk pow­der – then the C milk price ap­plies. The milk in­dus­try or­gan­i­sa­tion (BOM) was formed when the quota sys­tem came to an end. This body brings to­gether milk pro­ducer or­gan­i­sa­tions, milk proces­sors and re­tail­ers. Among other things, they have agreed a price cal­cu­la­tion model that de­fines a non-bind­ing rec­om­mended price for the A, B and C milk. The milk proces­sors usu­ally ad­here to these prices be­cause mu­tual com­pe­ti­tion would oth­er­wise re­sult in them re­ceiv­ing too lit­tle milk or none at all.
The HOCHDORF Group is de­vel­op­ing into a high-qual­ity milk prod­uct proces­sor.
Im­por­tant milk pow­der
The milk pow­der pro­duced by HOCHDORF is mostly des­tined for fur­ther pro­cess­ing by the food in­dus­try. Our milk pow­der usu­ally finds its way into Swiss choco­late; the choco­late in­dus­try is an im­por­tant sales chan­nel for Swiss milk. One of the rea­sons for the fine qual­ity of Swiss choco­late is the whey milk pow­der used in the pro­duc­tion process. In 2012 for in­stance, 17,243 tonnes of Swiss milk pow­der was processed into choco­late. This ac­counts for the sub­stan­tial milk quan­tity of 140,000 tonnes of full milk. Around 20,000 cows are needed to pro­duce these fig­ures. With an av­er­age of around 24 cows per dairy farmer, the choco­late in­dus­try pays ap­prox­i­mately 850 milk pro­duc­ers for milk. The con­trac­tu­ally agreed A milk price is paid for this. The choco­late in­dus­try can apply for ex­port con­tri­bu­tion sup­port, known as Schoggi law fund­ing, from the Swiss gov­ern­ment.
This fund­ing cov­ers the price dif­fer­ence for milk pow­der (or for milk) be­tween the do­mes­tic and the ex­port mar­kets. This fund­ing is not ex­clu­sively for ex­ported choco­late; var­i­ous food prod­ucts made from Swiss milk or ce­re­als re­ceive raw ma­te­r­ial sub­si­dies through this chan­nel.
Mar­ket price sup­port from milk pro­duc­ers
This spring the largest milk mar­ket­ing and pro­ducer or­gan­i­sa­tions joined with the SMP (Swiss Milk Pro­duc­ers' Or­gan­i­sa­tion) to found Lactofama AG.This com­pany fo­cuses ex­clu­sively on the sea­sonal ex­port of milk fat that ex­ceeds do­mes­tic needs and sup­ports the re­quired milk quan­ti­ties. This spring, for in­stance, the HOCHDORF Group suc­cess­fully ex­ported full milk pow­der with price sup­port pro­vided by Lactofama AG.
Mon­i­tor­ing by TSM
An­other im­por­tant or­gan­i­sa­tion in the milk in­dus­try is the Treuhand­stelle Milch (Milk Trust Of­fice). It acts on be­half of BOM, for in­stance, to mon­i­tor ad­her­ence to seg­men­ta­tion by proces­sors. The HOCHDORF Group is also mon­i­tored by the TSM in this con­text.
High-value prod­ucts - for ex­port, too
Seen over the course of the en­tire an­nual pro­duc­tion, the spring months are more abun­dant in milk pro­duc­tion than other months, but the total milk quan­tity af­fected is rel­a­tively small. But this milk still has to be processed into use­ful, high-qual­ity prod­ucts. By pro­cess­ing and ex­port­ing this milk, the HOCHDORF Group plays an im­por­tant role in en­sur­ing that all the milk can be processed. Sea­sonal in­creases in milk quan­ti­ties open the door to the in­ter­na­tional milk mar­ket. We make the "Pico" prod­uct – a "fat-filled pow­der" – for the Dutch com­pany Hoog­wegt, for ex­am­ple, re­plac­ing ex­pen­sive milk fat by cheaper plant oil. This prod­uct is sold in many West African and Arab coun­tries – for the local bak­ery in­dus­try, for in­stance.
As sim­ple as that - or not quite?
So far so good. Daisy the cow and the milk pro­ducer are at the very be­gin­ning of the value chain. The pro­ducer or­gan­i­sa­tions col­lect the milk and sell it to the proces­sors. We dry the milk to make var­i­ous milk pow­der prod­ucts that are sold in Switzer­land and for ex­port. De­pend­ing on the mar­ket, var­i­ous guide­line prices apply (A, B or C), de­ter­mined by the BOM.
It all sounds fairly clear and sim­ple in the­ory, al­though it re­mains a lit­tle com­plex at times in prac­tice.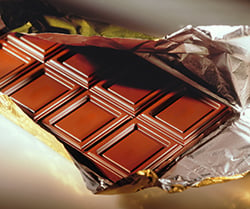 And Daisy the cow?
She still has a few more days to enjoy the juicy grass of the Alps before returning to the valley and, true to form, she keeps on producing milk for you, me, and everyone else.