Interview with Sindy Rebmann, Key Account Manager at J.C. Fridlin Gewürze AG.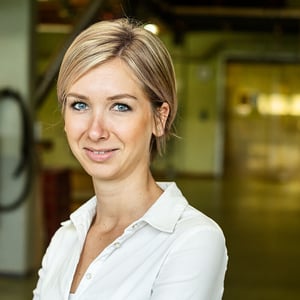 Sindy Raffaella Rebmann has been Key Account and Product Manager of Industry and Food Services at Fridlin AG for two years. Prior to that, she worked as an International Key Account Manager at Trisa AG and recently completed further training in Design Management at Lucerne University of Applied Sciences and Arts.
How many spices feature in the Fridlin range?
Sindy Rebmann: We carry around 300 different products in our standard range. These include, for example, different types of black pepper such as whole or coarsely ground peppercorns, and diverse degrees of fineness. We also offer a variety of mixes and spices that are customised specifically for customers.
How many kilograms of spice do you sell in a year?
Sindy Rebmann: We process around 2.2 million kg of spices at our plant in Hünenberg every year. The cleaned or ground spices are mixed or sold individually and then processed further in the Swiss food industry, used to enhance food in the catering trade or sold as seasoning in retail outlets.
Which spices do you sell the most? What are the latest trends?
Sindy Rebmann: The spices we sell most are still the most popular ones in our part of the world – like pepper, paprika and sea salt. But our great skill in processing cinnamon is also highly valued, making it one of our best-selling products.
It is difficult to generalise trends. They can even vary considerably depending on the sales channel or type of processing. We currently have lots of requests for very hot spices or for mixes without allergens; organic produce is also always a trend-driven criteria for purchasing.
Besides the well-known spices of pepper and cinnamon, what is the most exotic spice in your range?
Sindy Rebmann: The term "exotic" is defined as something that originates from a foreign country, something that is unfamiliar. We purchase all of our spices in the countries where they originate. Each spice has particular requirements with regard to climate and soil. For example, we buy garlic in China because of its abundance and optimal conditions. Of course, the underlying conditions such as the working environment and sustainability are of great concern to us so we organise an annual focus trip and visit the farmers and cooperatives directly on the ground.
I can't personally imagine a tomato salad without adding some grains of paradise, for example. The mild pungency of the sweet seeds from West Africa, with their cardamom-like taste, is a perfect match with the aromatic tomatoes.
What are the biggest challenges you face when purchasing spices?
Sindy Rebmann: Individual harvest times are the main consideration. One of the greatest challenges is also the technology used: we need to meet the requirements of the EU standard. We have to ensure that no allergens have come into contact with the individual spices. Of course, we set our own quality standard, which has a considerable influence on our procurement. And the produce must also be available in Hünenberg in good time, in an environmentally friendly way.
Does Fridlin process (grind, mix) the spices in Hünenberg itself? What else does the company do in Hünenberg?
Sindy Rebmann: We have been based in Zug and creating jobs here since 1775. The spices are raw when we procure them. When they reach us in Hünenberg, they are then cleaned, crushed, ground, mixed and, of course, packaged: the complete raw material is processed by us in Hünenberg.
The sensory properties of the spices are also tested. What is the most important factor in this regard? What do you need to consider? Are the Fridlin employees trained in this?
Sindy Rebmann: Every delivery we receive is compared in our laboratory with the previous two deliveries we received. Colour, smell, taste and appearance all play a role here. For products where the intensity of colour is also a measure of the quality – such as paprika or turmeric – separate colour measurements are carried out.
Effective customer consulting and development requires trained taste buds; it is possible to advise customers sensitively then – without being contentious – on features like how Israeli and Spanish peppers differ from each other.
Does Fridlin also provide customers with advice on effective taste combinations?
Sindy Rebmann: We are delighted to advise our customers on their requirements. Our food technologists deal with the tastiest of challenges on a daily basis in order to offer our customers exquisite and harmonious solutions.
Sindy Rebmann, thank you for the exciting insight into your world of spices.
---
About J. C. Fridlin Gewürze AG
C. Fridlin Gewürze AG is the largest independent spice producer in Switzerland. Since 1775, seven generations of this family business based in Hünenberg in the canton of Zug have dedicated themselves to the art of spice production. J. C. Fridlin Gewürze AG procures its raw materials from the various countries of origin around the world. The company cultivates sustainable relationships with its long-standing suppliers, customers and employees, benefiting from the wealth of experience it has amassed across all these areas.
From cleaning, crushing, grinding and mixing to packaging, everything takes place in the Hünenberg plant. The spice experts produce and package products for the retail trade, as well as mixing and customising spices for the food industry and enchanting food service professionals with in-house blends.
You can find more information at www.fridlin.ch
---
Further information