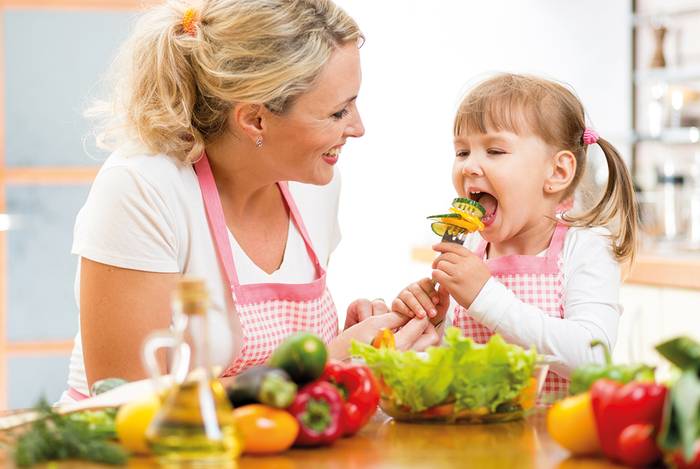 Children grow particularly quickly in their first years of life – their bodies practically double and their brains treble in size! To develop and stay healthy, they need the right nutritional balance. It's important to lay healthy eating foundations early. Vegetable oils offer a range of options: as well as essential Omega-3 and
Omega-6 fatty acids
, they contain a host of desirable secondary plant substances.

Healthy nu­tri­tion is a mat­ter of vital im­por­tance, par­tic­u­larly for chil­dren. De­vel­op­ing at a rapid pace, they re­quire tremen­dous en­ergy in the form of fats. So it is im­por­tant that they learn to recog­nise the dif­fer­ence be­tween healthy and un­healthy foods – or fats and en­ergy providers – to avoid falling into the trap of lifestyle dis­eases in later life. The num­bers are alarm­ing.
In West­ern Eu­rope now around 12 to 35 per­cent of chil­dren aged be­tween seven and 11 are over­weight (1) and fac­ing the po­ten­tial dan­ger of di­a­betes, heart at­tack or stroke as adults. Ac­cord­ing to the World Health Or­gan­i­sa­tion (WHO), 16 mil­lion peo­ple around the world died of lifestyle dis­eases in 2012 that could have been pre­vented by a healthy diet (2).
It is there­fore in­creas­ingly im­por­tant today that par­ents ex­em­plify healthy eat­ing habits to their chil­dren, in­clud­ing the use of fats with a high nu­tri­tional value.
© 2015, Harvard T.H. Chan School of Public Health, Department of Nutrition
A varied meal includes plenty of fresh vegetables, whole-grain produce and healthy proteins, as well as a moderate intake of valuable fats. The mono and polyunsaturated acids contained in vegetable oils are especially beneficial. Rapeseed, for instance, is a particularly child-friendly oil.
Par­ents are an im­por­tant model of healthy eat­ing habits
On the whole, the nu­tri­tional rec­om­men­da­tions for adults and chil­dren are sim­i­lar (3). A healthy diet in­cludes a mix of veg­eta­bles, fruit, whole-grain prod­ucts and high-qual­ity pro­teins (see our healthy eat­ing plate). Above all, it in­volves a sen­si­ble ap­proach to fats. In gen­eral terms: we should choose foods with "good" or un­sat­u­rated fatty acids, limit foods with sat­u­rated fatty acids and avoid those with "bad" trans fats (4). Not all fats are alike. Veg­etable oils con­tain a high level of es­sen­tial, un­sat­u­rated fatty acids that are par­tic­u­larly healthy for chil­dren. "Start early" is the mes­sage for our lit­tle ones when it comes to a var­ied diet. The sooner our chil­dren be­come ac­cus­tomed to the most di­verse nat­ural tastes and tex­tures, the less likely they are to re­ject un­fa­mil­iar food in later life. Chil­dren pre­fer the pri­mary foods that are pre­sented to them most often (5) so par­ents should per­se­vere in of­fer­ing those that are less pop­u­lar. Chil­dren then have the chance to shake off their re­luc­tance to try cer­tain foods (6) be­fore it be­comes too en­trenched.
Fit chil­dren need clever fats
Chil­dren re­quire higher lev­els of en­ergy or fats than adults for their phys­i­cal and men­tal de­vel­op­ment (see di­a­gram on fat re­quire­ments). A child's me­tab­o­lism runs at high speed be­cause vital or­gans such as the brain, the eyes or the im­mune sys­tem have still to reach ma­tu­rity. Fats also pro­tect against the cold, pro­vide emer­gency re­serves against ill­ness and chan­nel vital nu­tri­ents, such as the li­posol­u­ble vi­t­a­mins A, D, E and K, around our sys­tem. They play an im­por­tant role in main­tain­ing good health in every phase of life.
Un­sat­u­rated Omega-3 fatty acids are par­tic­u­larly im­por­tant for our men­tal and phys­i­cal de­vel­op­ment. The brain of a small child, for in­stance, triples in size in the first three years of life and be­gins to form count­less synapses and the myelin layer, a white coat­ing made of fat and pro­tein (7,8). The main func­tion of this spe­cial layer of fat is to in­crease the speed at which im­pulses are con­ducted along the nerve cells. Be­tween 50 and 60 per cent of the brain is made up of Omega-3 fatty acids so it is easy to un­der­stand why they are be­com­ing in­creas­ingly im­por­tant in the area of child nu­tri­tion.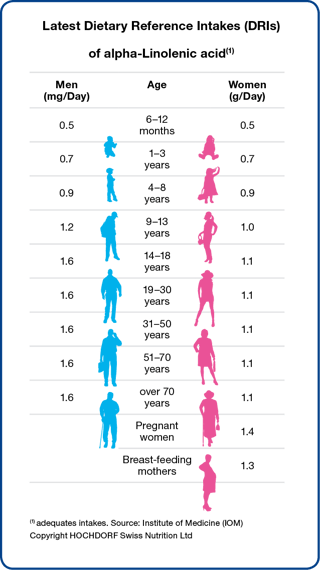 The choice of fatty acids is crucial
The unsaturated Omega-3 fatty acid docosahexaenoic acid, or DHA, is particularly important for the development of a child's brain. It is found in fatty fish or in its original form as alpha-linolenic acid, or ALA, in nuts and vegetable oils. A base fatty acid, ALA is essential for the human system because we cannot produce it ourselves. We have to take in alpha-linolenic acid through food. However, the human body can synthesise the base fatty acid ALA into DHA. Children can convert up to 29% of ALA (9) into DHA but this figure decreases as we grow older. Depending on individual predispositions and nutritional habits, the values for adults are up to 5 per cent (10) lower. However, studies show that people are generally able to form sufficient DHA from ALA (11).
Our ability to form DHA from alpha-linolenic acid is the reason why DHA, unlike ALA, is not one of the essential fatty acids. This makes it all the more important that Omega-3 vegetable oils, such as rapeseed, walnut and wheat germ oil, regularly find their way onto our children's menus.
On the other hand, our bodies can produce saturated fatty acids, making the intake of additional food supplements unnecessary. They are present in animal products as well as in coconut and palm fat. Parents should avoid trans fats at all costs. These are formed in the process of fat hardening as well as in margarine production and in deep frying or in heating unsuitable cooking oils at high temperatures.
The German, Austrian and Swiss nutrition societies all recommend the one third rule with regard to fats: for each one third of saturated, there should be one third of mono-unsaturated and one third of poly-unsaturated fatty acids. Similar reference values apply in Great Britain, Scandinavia, France and the Netherlands (12).
Vegetable fatty acids: an important brain food for children
The alpha-linolenic acids present in vegetable oils have an important contribution to make to our children's wellbeing, particularly in terms of the positive effects they have on brain function, intellectual capacity and social conduct. A pilot study conducted in Singapore showed that Omega-3 improves the interaction that autistic children have with their environment (13).
Unsaturated fatty acids also have positive effects on attention deficit hyperactivity disorder (ADHD). People suffering from ADHD have a lower level of Omega-3 fatty acids. So it makes sense to ensure our diet contains products or foodstuffs that contain a higher level of poly-unsaturated fatty acids (14). In this respect, the vegetable Omega-3 fatty acid ALA has proven the most effective, while DHA has little impact on lower levels of Omega-3 fatty acids (15).
The cornerstone for life – including vegetable oils from an early stage
We can prevent illness in later life by consuming healthy fats when we are young. A Mediterranean diet, for instance, rich in monounsaturated oleic acid and polyunsaturated ALA, significantly reduces diseases of the coronary arteries (16, 17). This fact was starkly demonstrated in the Lyon study (18, 19), as well as in the PERIMED study (20). The results were so compelling that the PERIMED study was terminated ahead of schedule after five years. ALA is also interesting because it reduces blood pressure (21) and improves glucose tolerance values for type 1 and 2 diabetics (22).
Vegetable oils suitable for children
Vegetable oils such as olive oil, nut oil and rapeseed oil – which is particularly suited to children – are integral to a Mediterranean diet. While less evident in Mediterranean cuisine, linseed oil contains more ALA than all the other vegetable oils.
Vegetable oil can be mixed with your child's first meals, always just using a few drops at the beginning to test the child's reaction to each vegetable oil. One-year-old children need around 2 teaspoons of vegetable oil, half of which should be in the form of rapeseed. Two to three-year olds need 3 teaspoons, again including a half measure of rapeseed oil. For older children, you can add vegetable oil to steamed vegetables.
Rapeseed oil is extremely valuable and palatable in terms of healthy nutrition: the ratio of vital alpha-linolenic acid (Omega-3) to linoleic acid (Omega-6) is in keeping with the 1:5 recommendation made by the German Nutrition Society (DGE). Rapeseed oil contains around 50 to 60 per cent of monounsaturated and 25 to 30 per cent of polyunsaturated fatty acids, with virtually no cholesterol. Rapeseed oil is therefore very important in preventing heart attacks (23). It also contains around three times as much ALA as olive oil (24).
There is also a good ratio between Omega-3 and Omega-6 fatty acids in wheat germ oil and walnut oil. An ideal fatty acid profile is important because our body can only achieve good conversion values of ALA to DHA if we avoid simultaneously consuming too many Omega-6 fatty acids. Germany, Switzerland, Austria, Canada and Australia (25, 26) all therefore recommend a ratio of Omega-3 to Omega-6 fatty acids no greater than 5:1.
Healthy secondary plant substances
Apart from its fatty acid profile, vegetable oil is also interesting on account of its secondary plant substances. We can assume that around five to ten thousands of these find their way into our diet, bringing a variety of healthy effects, including the benefits of phytosterols. They inhibit cholesterol intake from the intestines and so have a positive impact on cholesterol levels (27). When oils are refined, however, the phytosterol content drops by a third – which is where cold-pressed, natural oils offer a clear advantage (28). Tocotrienols should not be underestimated either. These are important antioxidants, related to vitamin E.
What makes a vegetable oil suitable for children?
Vegetable oils only retain their healthy ingredients if they are extracted in an extremely gentle process that enables the oil to preserve its delicate vitamins, nutrients and typical natural taste. Achieving this requires practical skill and technical expertise.
There is plenty of scope for using vegetable oils in child nutrition and there are also health as well as educational benefits. High-quality cold-pressed oils retain the natural taste of the oil seed. Our little ones learn from an early age to experiment with different flavours and to appreciate natural produce. And for the healthy development of our children, it is equally important that they learn to use fats sensibly and in moderation: a sound basis for healthy living.
Sources 


1) http://www.project-earlynutrition.eu/eneu/index.php?site=obesity (2016-07-04). 
2) http://www.who.int/mediacentre/news/releases/2015/noncommunicable-diseases/en. 


3) SGE Schweizerische Gesellschaft für Ernährung: Broschüre Ernährung von Kindern. 


4) Kids healthy eating plate. http://www.health.harvard.edu/healthy-eating-plate (2016-10-03). 


5) SGE Schweizerische Gesellschaft für Ernährung: Hintergründe zur Ernährungsscheibe. 




6) Forschungsanstalt für Kinderernährung Dortmund: Empfehlungen für die Ernährung von Kindern und Jugendlichen. Die Optimierte Mischkost optimiX. Rademann Print. 7. Auflage, 2012; 6-8. 




7) Wainwright P: Dietary essential fatty acids and brain function: a developmental perspective on mechanisms. ProcNutr Soc. 2002: 61 (1): 61-69. 




8) Roth G., Strüber N: Pränatale Entwicklung und neurobiologische Grundlagen der psychischen Entwicklung. In: Cierpka (Hrsg.) Frühe Kindheit 0-3. Springer-Verlag, Berlin Heidelberg 2012; 4-20. 




9) Clark K.J. et al : Determination of the optimal ratio of linoleic acid to alpha-linolenic acid in infant formulas. J Pediatr: 120 (1992): 151-158. 




10) Davis B., RD: Vegetarian's Challenge - Optimizing Essential Fatty Acid Status. Today's Dietian, Vol. 12 No. 2 P. 22, February 2010. 




11) Bazinet R.P. et al: Lipids 38 (2003): 1045-9. (12) ESFA, Journal 2010. 8(3):1461. 




13) Ooi Y. P. et al: Omega-3 fatty acids in the management of autism spectrum disorders: findings from an open-label pilot study in Singapore. 




14) Sinn N. et al. Effect of supplementation with polyunsaturated fatty acids and micronutrients on learning and behaviour problems associated with child ADHD. In: J Dev Behav Pediatr 28, 2007, 82-91. 




15) Voigt R.G. et al: J Pediatr. 139 (2001): 189-96. 




16) Campos H et al: Alpha-linolenic acid and risk of nonfatal acute myocardial infarction. Circulation 2008; 118(4): 339-345. 




17) Skeaff CM. et al: Dietary fat and coronary heart disease: summary of evidence from prospective cohort and randomised controlled trials. Ann Nutr Metab 2009; 55(1-3): 173-201. 




18) Lorgeril M. et al: Mediterranean diet, traditional risk factors, and the rate of cardiovascular complications after myocardial infarction: final report of the Lyon Diet Heart Study. Circulation. 1999;99:779-785. 




19) Kris-Etherton P. et al: AHA Science Advisory: Lyon Diet Heart Study. Benefits of a Mediterranean style. National Cholesterol Education Program/American Heart Association Step I dietary pattern on cardiovascular disease. Circulation. 2001;103:1823-1825. 


20) http://predimed.onmedic.net. 


21) Sekinge S. et al: J. Oleo: Sci. 2007; 56(7): 341-345. 




22) Mustad V.A. et al: Metabolism 55 (2006): 1365-74. 




23) Hunter JE., Zhang J., Kris-Etherton PM: Cardiovascular disease risk of dietary stearic acid compared with trans, other saturated, and unsaturated fatty acids: a systematic review. Am J Clin Nutr. 2010;91:46–63. 


24) http://www.ufop.de/rapsoel-and-ernaehrung/ernaehrungsinfos-fuer-experten/rapsoel-informationen/fette-und-herz-kreislauf-erkrankungen. 
25) www.ufop.de. 


26) Deutsche Gesellschaft für Ernährung; Schweizerisches Bundesamt für Lebensmittelsicherheit und Veterinärwesen BLV. 




27) De Jonga A. et al: Metabolic effects of plant sterols and stanols. The Journal of Nutritional Biochemistry, Volume 14, Issue 7, July 2003, Pages 362–369. 




28) Riemann-Lorenz K: UGB-Forum 3/10.