---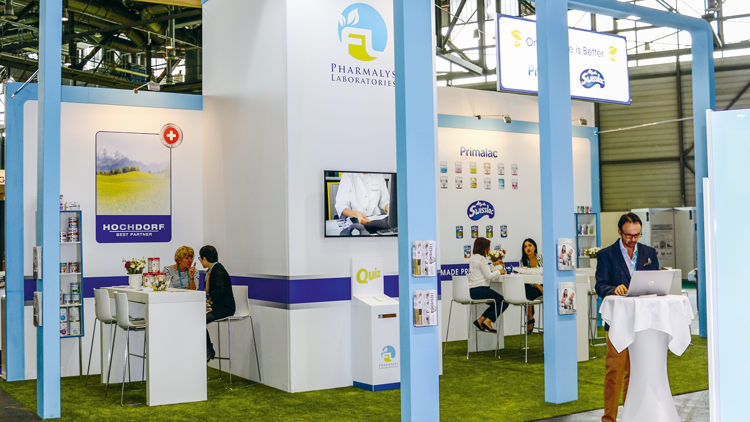 Fifty years old and in the best shape ever. ESPGHAN is one of the leading European organisations when it comes to infant and child nutrition. It advises regulatory bodies, ­facilitates research and training projects and provides platforms for academic discussion, such as its annual conference. This year's conference was special as the anniversary conference took place in Geneva. As well as partici­pating as conference guests, HOCHDORF was also represented with its own exhibition stand.
The meeting point for child nutrition specialists from all over the world
Infant formula is all about the expert nutrition and health of our little ones, but it also incorporates food safety, legislation and directives. It is therefore important that there are consultative organisations like ESPGHAN in Europe, as well as legislative authorities providing guidelines. We need to be familiar with these and stay fully up to date about what is happening in Europe and beyond – not just in terms of research, but also with regard to legislation, recommendations and guidelines. For our part, we feel obliged to pass on this expertise to our Baby Care customers. Some of these are very experienced in the area of infant formula, but others are relatively new players. We want to provide our customers with information: how registration procedures work, for instance, what needs to be considered with product labelling, or what is legally permissible when it comes to advertising in print media, websites and social media.
Organisations such as ESPGHAN are important for our work
Our work is mainly impacted by EU guidelines1) (EC directives) and the recommendations made by the European Food Safety Authority2) (EFSA) and the European Society for Paediatric Gastroenterology Hepatology and Nutrition3) (ESPGHAN). A large part of our work in Baby Care is affected in some way by these organisations.
After an intensive evaluation phase, the 'when' ­became a 'now' and the 'if' became a 'let's do it ­properly'.
I see ESPGHAN as one of the most important organisations for infant formula specialists like me and I have been attending the annual conference for 15 years. But this was the first time that I was present, not as an academic participant, but as a member of the project team and stand host for PHARMALYS and HOCHDORF – a new and exciting experience.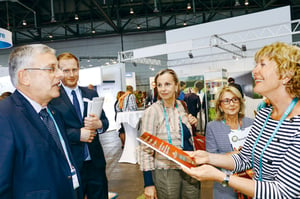 This year the conference took place from 10–12 May in Geneva, Switzerland, where ESPGHAN was founded. PHARMALYS has always wanted to play an active part in exhibitions since ESPGHAN was founded
50 years ago. When, if not now? After an intensive evaluation phase, the 'when' became a 'now' and the 'if' became a 'let's do it properly'. We decided to be represented as a Silver Sponsor because of the interesting benefits. We were given a large and strategically placed stand as well as various advertising platforms such as e-mail notification options or special apps to publicise our work. We were also able to supply every participant with our PHARMALYS product portfolio in an overview brochure and to issue a special conference newspaper.
Platform for interesting meetings
The conference stand provided HOCHDORF and Pharmalys Laboratories SA, as a member of the HOCHDORF Group, with a unique opportunity to present the company and its infant formula brands "Primalac" and "Swisslac" to international experts in its home country. Another key conference objective for us was to meet different people, to share information with other companies and suppliers, to make business contacts, to win new customers and to intensify existing relationships. To this end, ­PHARMALYS invited over 30 paediatricians to ESPGHAN and provided them with an informative supporting programme. We visited our production site in Sulgen and our head ­office in Hochdorf, providing our guests with an insight into the HOCHDORF and PHARMALYS world. We also visited a Swiss farm, allowing our guests to see where we source the milk for our infant formula.
A successful event
The three-day conference was a resounding success. Our stand was well attended, providing ­interesting ­encounters and meetings. It felt very ­different compared to attending as an academic; we could be proactive in providing the conference delegates with an overall impression of our company and products and we were right at the heart of all the exciting events.

We were also really pleased with the advertising platforms ESPGHAN provided us with as an exhibitor: the posts we and ESPGHAN sent out via social media were received and forwarded by many users.

We also took pictures of our stand and the events each day and posted them on social media platforms like LinkedIn and Twitter. Some of our posts generated over a thousand views and reactions.
We would like to thank all the participants for the fantastic days that we spent together. Who knows... there might be another "when if not now" experience in the near future !
---
Further information
---
Picture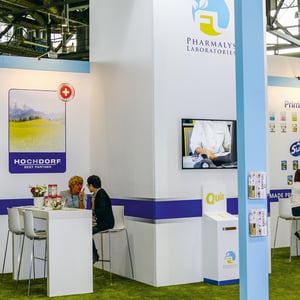 The joint HOCHDORF and PHARMALYS stand was open and inviting for the conference guests. Many visitors found their way to our stand during the conference.
---
The official ESPGHAN committee thanks its sponsor