Although HOCHDORF now has four milk processing plants, we are still conscious of remaining a medium-sized company. It is a strategy that keeps us fit and adaptable to the needs of our customers.

Our plant in Hochdorf, cen­tral Switzer­land, has been pro­cess­ing milk since 1895 and pro­duc­ing spray milk pow­der since 1912. But it wasn't until 2003, with the ac­qui­si­tion of the dairy plant in Sul­gen, that we began pro­cess­ing milk on a na­tional scale. This plant in the east of the coun­try has en­abled us to more than dou­ble dry­ing ca­pac­i­ties and we are con­tin­u­ing to ex­pand across Eu­rope. The HOCHDORF Group is an es­tab­lished spe­cial­ist in milk pow­der and now a Swiss mar­ket leader for roller-dried milk pow­ders.
The ma­jor­ity hold­ing ac­quired in Uck­ermärker Milch GmbH in Ger­many in 2015 was an im­por­tant step to­wards de­vel­op­ing our in­ter­na­tional pro­file for milk pro­cess­ing. In ad­di­tion to ex­tend­ing our pro­duction ca­pac­ity in the area of spray pow­der, we have also be­come a but­ter and curd pro­ducer as a re­sult.
---
Further information
---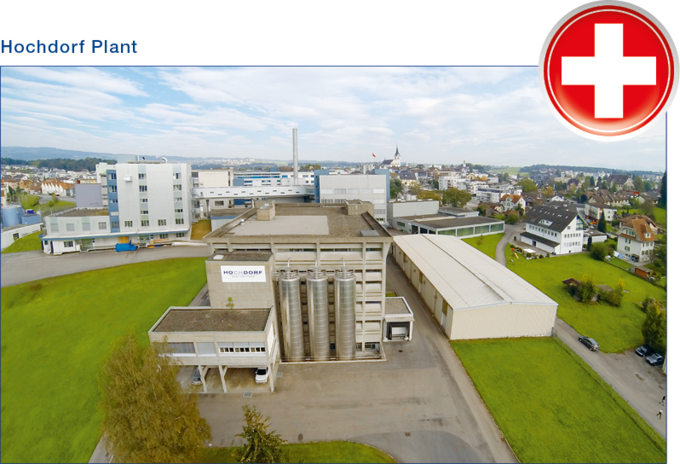 In Hochdorf we have two roller driers and three spray towers, which we use to process around 150 million kilograms of milk a year.
Our Hochdorf plant produces by far the greatest variety of milk powder compared to all the other locations. The plant is extremely flexible due to its two rollers and three spray towers. One of the towers is designed to produce high fat powder, for instance. Depending on individual requirements, we fill cans, tubular bags, sacks or big bag containers with between 600 and 1,000 kg of our milk powder. We also have three mixers and a tube filling facility for condensed milk.
New milk concentration plant
The first step in milk drying is to standardise the milk fat content of the milk in a centrifuge. This allows us to set the desired fat content of the milk we are processing. After pasteurisation the milk is gently concentrated in a downdraft procedure in a vacuum and at a temperature of around 50 °C – which means the milk is evaporated. The evaporator caused a bottleneck in Hochdorf by limiting the processing capacity, particularly in spring during the high season for milk. We will be using a reverse osmosis plant and a high concentrator to concentrate our milk from the spring 2017. This plant will provide a higher level of concentration, raising the capacities of the spray towers. As a consequence we will need less energy to produce a kilogram of milk powder.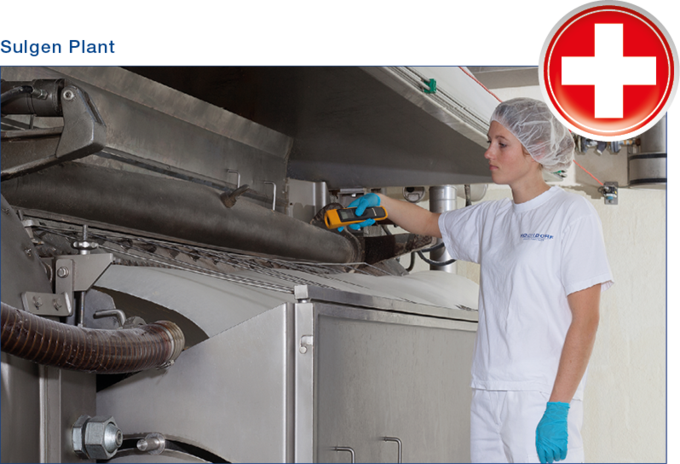 There are three roller driers in Sulgen. With two more rollers in Hochdorf, we are the largest provider of roller-dried full milk powder in Switzerland. This is mainly used to supply the Swiss chocolate industry. Our Development Project Manager at the HOCHDORF Group, carries out a non-contact temperature check at a roller dryer.
In Sulgen, we currently process approximately 180 million kilograms of milk each year, around a third of which is dried into roller-dried full milk powder.
In the roller drying process, the milk concentrate is deposited thinly on rotating rollers heated to 120–160 °C . After a short revolution, the concentrate is completely dried and separated from the roller with a knife. The final particle size can be set in a sieve.
Proteins and liquid lactose
In addition to the three rollers, there are also three spray towers, an ultra-filtration plant and the IONEX ion exchanger system. In ultrafiltration, we filter proteins from the low-fat milk and the whey (see "HOCHDORF Inside", issue no. 4). Permeate is a by-product of this process. The IONEX system uses the ion exchanger to release the permeate; electro-dialysis of trace elements and salts allows us to extract liquid lactose. They are used either directly in infant formula production or dried in a spray tower.
We produce infant formula on our largest spray tower, known as Tower 8. On the other two towers we dry powder and protein concentrates from low-fat milk, whey and buttermilk.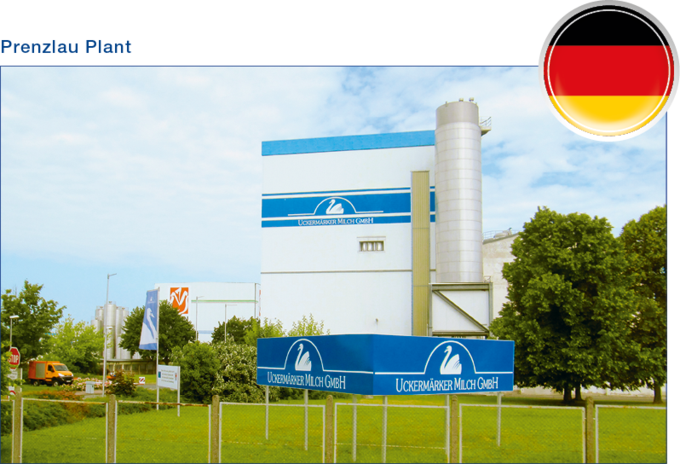 Uckermärker Milch GmbH is currently our largest milk plant in terms of processing quantities. It has the capacity to process around 300 million kilograms of milk a year into butter, curd and milk powder.
Uckermärker Milch GmbH, located in Prenzlau in eastern Germany, has been a part of the HOCHDORF Group since 2015. We produce butter, curd and milk powder in Prenzlau.
Butter and curd – a new business area for HOCHDORF
Butter and curd are new business fields for the HOCHDORF Group. We produce the butter from our own centrifuged cream and from purchased cream and we process both into small packets for the retail sector and into blocks of butter for the food industry. We supply the curd to the dairy company Arla. This year we have also started filling buttermilk for Arla.
There are two spray towers in Prenzlau in addition to the butter and curd-making facilities. We mainly produce low-fat milk and buttermilk powder in the towers, in addition to drying lower quantities of full-milk powder. Since the beginning of 2016 we have been spraying our fat-filled milk powders (FFMP) with vegetable fat. FFMP products are based on low-fat milk.
We are running tests and planning investments in production plants with a view to developing the milk powder range in Prenzlau by adding more FFMP products and instant or soluble milk powders.