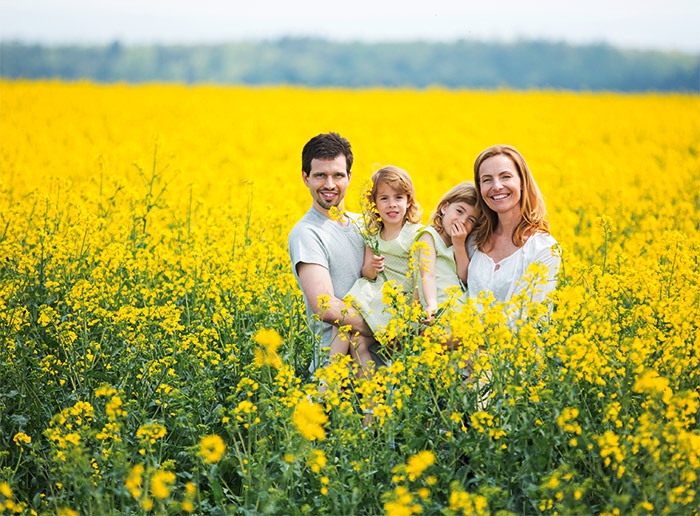 Fats are essential for our survival. They supply cells with energy, protect our organs, increase brain power and reduce the risk of coronary heart disease. But not all fats are alike. It's more complex than that. The essential polyunsaturated
fatty acids
are particularly healthy for our bodies – but we need the right balance of fatty acids.

Fats and veg­etable oils play a piv­otal role in our nu­tri­tion. They strengthen our im­mune sys­tem, sup­ply us with en­ergy and are an im­por­tant com­po­nent of cell mem­branes. Fats are also car­ri­ers of the li­posol­u­ble vi­t­a­mins A, D, E and K.
There are dif­fer­ent types of fatty acids in nu­tri­tion: sat­u­rated fatty acids (SFAs), mo­noun­sat­u­rated fatty acids (MUFAs), polyun­sat­u­rated fatty acids (PUFAs) and harm­ful trans fatty acids (TFAs), also known as solid fats, which should be avoided. The healthy fatty acids found in veg­etable oils are the longer the more in focus.
Com­bi­na­tion is key
In order to max­imise the ben­e­fits of veg­etable oils in our bod­ies, they need to be pro­duced in a gen­tle process and com­bined in­tel­li­gently. En­sur­ing the right bal­ance of dif­fer­ent fats and oils in our diet con­tributes to avoid cer­tain health risks such as heart dis­ease and keeps us fit, slim and healthy. Ger­man, Aus­trian and Swiss nu­tri­tion as­so­ci­a­tions all rec­om­mend that fats should ac­count for a max­i­mum of 30% of the daily calo­rie in­take of adults: 10 per cent through sat­u­rated fats, 10 per cent through mo­noun­sat­u­rated fats and 10 per cent through polyun­sat­u­rated fats. Sim­i­lar ref­er­ence val­ues (1) apply in Great Britain, Scan­di­navia, France and the Nether­lands.
Un­sat­u­rated, es­sen­tial fatty acids are es­pe­cially im­por­tant for our health. They are classed as es­sen­tial be­cause our bod­ies can­not pro­duce them in­de­pen­dently. Un­sat­u­rated fatty acids are par­tic­u­larly healthy be­cause they build fur­ther chem­i­cal com­pounds. They be­come sat­u­rated, for in­stance, bind­ing free rad­i­cals and mak­ing them harm­less for the body. The fatty acids that are es­sen­tial for the human body in­clude Omega-3 and Omega-6 fatty acids in par­tic­u­lar. The Omega-3 group in­cludes the fatty acids DHA (do­cosa­hexaenoic acid) and EPA (eicos­apen­taenoic acid), which are both found in oily fish and algae, as well as ALA (alpha-linolenic acid or α-linolenic acid), a com­po­nent of veg­etable oils.
Omega-3 fatty acids: healthy for heart and brain
Sci­en­tists have long been in­ter­ested in the Omega-3 fatty acids DHA and EPA that are mainly found in fish. A re­cent study has shown that both fatty acids min­imise the risk of car­dio­vas­cu­lar dis­ease and sud­den car­diac ar­rest (2). The Omega-3 fatty acids also com­bat coro­nary artery dis­eases (3), re­duce blood lipids, im­prove cir­cu­la­tion and re­duce blood clots (3). The focus on Omega-3 fatty acids has in­creased in the light of the pos­i­tive ef­fects they have shown on brain func­tion, in­tel­lec­tual ca­pac­ity and so­cial be­hav­iour. A pilot study in Sin­ga­pore has in­di­cated that Omega-3 fatty acids may im­prove the in­ter­ac­tion of autis­tic chil­dren with the world around them (4).
Over­fish­ing of the oceans has led to a change of ap­proach and healthy veg­etable oils are gain­ing in im­por­tance on ac­count of their valu­able Omega-3 ALA fatty acid con­tent. Sci­en­tific stud­ies show­ing the pos­i­tive ef­fects of veg­etable Omega-3 fatty acid on coro­nary health (5, 6) are in­creas­ingly com­mon­place. An ALA-rich diet might re­duce the risk of car­dio­vas­cu­lar dis­ease by as much as 10 per cent (7).
We now as­sume that the human or­gan­ism con­verts up to 6 per cent of the amount of ALA con­sumed into EPA and 3.8 per cent into DHA (8). We can only ben­e­fit from these pos­i­tive con­ver­sion val­ues if we do not con­sume too many Omega-6 fatty acids at the same time. Al­though Omega-6 fatty acids have a pos­i­tive in­flu­ence on cho­les­terol lev­els, they still com­pete with the Omega-3 fatty acids and im­pede the syn­the­sis of ALA to EPA and DHA. Ger­many, Switzer­land, Aus­tria, Canada and Aus­tralia (8, 9) there­fore all rec­om­mend that the ratio of Omega-3 and Omega-6 fatty acids should not ex­ceed 5:1.
Healthy liv­ing with veg­etable oils
A Mediter­ranean diet, rich in oleic acid and ALA, sig­nif­i­cantly re­duces dis­eases of the coro­nary ar­ter­ies. This was demon­strated by the find­ings of the Lyon study (10, 11) and the PER­IMED study (12). The re­sults were so clear that the PER­IMED study was com­pleted early, five years after its launch. The car­dio­vas­cu­lar risk was re­duced by 30 per cent for the test group that adopted a Mediter­ranean diet. Over time, the ben­e­fits of this kind of diet may prove even greater than those shown by the study re­sults.
Veg­etable oils, such as olive oil, nut oils and rape­seed oil are all com­pat­i­ble with a Mediter­ranean diet. Lin­seed oil is not com­mon in Mediter­ranean cook­ing, but it does con­tain a high pro­por­tion of ALA. If you are look­ing for a good ratio be­tween Omega-3 and Omega-6 fatty acids, you can find this in wheat germ oil and wal­nut oil, for in­stance. Nuts, in par­tic­u­lar, have known pre­ven­tive prop­er­ties with re­gard to heart dis­ease and some forms of can­cer (13). Vir­tu­ally all veg­etable oils have spe­cific ben­e­fits if we use them cor­rectly. Saf­flower and apri­cot oils have a very high vi­t­a­min E con­tent, whereas prim­rose and jo­joba oils re­duce in­flam­ma­tion. These four oils are also very kind to the skin and are there­fore used fre­quently in the cos­met­ics in­dus­try.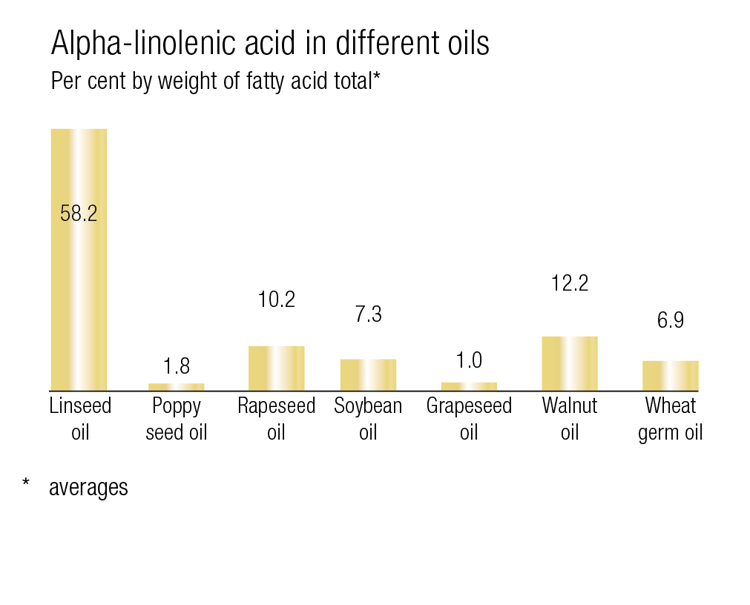 100 g VIOGERM® wheat germ meets a large proportion of the daily requirement of folic acid and other vitamins and nutrients that are essential to life.
---
Further Information
Sources
1) ESFA, Journal 2010: 8(3):1461
2) A Wagner et al: Omega-3 index levels and associated factors in a middle-aged French population: the MONA LISA-NUT Study. European Journal of Clinical Nutrition 69, 436-441 (April 2015) | doi:10.1038/ejcn.2014.219
3) Omega-3-Fettsäuren: Schutz vor Schlaganfall und Infarkt. Pharmazeutische Zeitung, Ausgabe 04/2004.
4) Y P Ooi et al: Omega-3 fatty acids in the management of autism spectrum disorders: findings from an open-label pilot study in Singapore.
5) Campos H et al: Alpha-linolenic acid and risk of nonfatal acute myocardial infarction. Circulation 2008; 118(4): 339-345.
6) Skeaff CM et al: Dietary fat and coronary heart disease: summary of evidence from prospective cohort and randomised controlled trials. Ann Nutr Metab 2009; 55(1-3): 173-201.
7) Geleijnse JM et al : Alpha-linolenic acid: is it essential to cardiovascular health? Curr Atheroscler Rep 2010;12:359–67.
8) www.ufop.de 
9) Deutsche Gesellschaft für Ernährung; Schweizerisches Bundesamt für Lebensmittelsicherheit und Veterinärwesen BLV.
10) Lorgeril M et al. Mediterranean diet, traditional risk factors, and the rate of cardiovascular complications after myocardial infarction: final report of the Lyon Diet Heart Study. Circulation. 1999;99:779-785.
11) Kris-Etherton P et al. AHA Science Advisory: Lyon Diet Heart Study. Benefits of a Mediterranean style. National Cholesterol Education Program/American Heart Association Step I dietary pattern on cardiovascular disease. Circulation. 2001;103:1823-1825.
12) http://predimed.onmedic.net 
13) Giuseppe Grosso et al: Nut consumption on all-cause, cardiovascular, and cancer mortality risk: a systematic review and meta-analysis of epidemiologic studies. The American Journal of Clinical Nutrition, first published February 4, 2015, doi: 10.3945/ajcn.114.099515