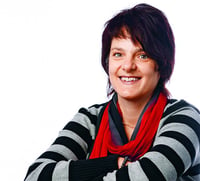 How long have you worked with the Mother and Fa­ther Ad­vi­sory Ser­vice in Hochdorf?
Chris­tine Geiser: I have worked here for 20 years and am re­spon­si­ble for the en­tire Hochdorf re­gion for pre-school chil­dren. We offer ­advice to an av­er­age of 1,500 peo­ple each year in ­person or by tele­phone or e-mail.
Ac­cord­ing to the ex­perts, there has been a dra­matic in­crease in al­ler­gic dis­eases over the past 20 years. Have you ob­served this?

Chris­tine Geiser: I have not per­son­ally found any in­crease. I would es­ti­mate that around five per cent of all the chil­dren we care for will suf­fer from al­ler­gies.
How can you pre­dict if a child is likely to suf­fer from al­ler­gies?

Chris­tine Geiser: We are the only peo­ple in­volved with three quar­ters of all the chil­dren until they reach the age of one so we often see the ini­tial signs of pos­si­ble al­ler­gies. Typ­i­cal signs are red cheeks or a rash in the back of the knee or the crook of the arm.
What hap­pens with typ­i­cal al­lergy symp­toms?

Chris­tine Geiser: The symp­toms will re­main for a third of chil­dren. They dis­ap­pear per­ma­nently for ­another third and re­oc­cur later for the re­main­der. How­ever, I don't have any of­fi­cial fig­ures for this.
Is al­lergy pre­ven­tion a rea­son­able pre­cau­tion when it comes to in­fants?

Chris­tine Geiser: If the clos­est rel­a­tives – mother, fa­ther, or sib­lings – suf­fer from atopic al­ler­gies, then pre­ven­tion makes sense.
What do you ad­vise these par­ents?

Chris­tine Geiser: In cases like this, I ad­vise breast­feed­ing ex­clu­sively. If breast­feed­ing is not pos­si­ble I rec­om­mend using HA in­fant for­mula for the first four to six months. The par­ents can then move on to nor­mal for­mula al­though many par­ents de­cide to stick with an HA fol­low-on for­mula.
What is your ex­pe­ri­ence with HA for­mula?

Chris­tine Geiser: We have had very good re­sults with HA in­fant for­mula. The in­fants tol­er­ate HA for­mula very well and ac­cept it eas­ily.
There are sev­eral HA in­fant for­mula prod­ucts on the mar­ket. Which do you rec­om­mend?

Chris­tine Geiser: As a neu­tral spe­cial­ist de­part­ment we don't rec­om­mend any par­tic­u­lar brand. How­ever, many par­ents ask about Swiss prod­ucts and we would then rec­om­mend rel­e­vant brands.
Chris­tine Geiser, thank you for the in­ter­est­ing in­ter­view.
---
Fur­ther In­for­ma­tion