An interview with our Packaging Coordinator Michaela Arteel...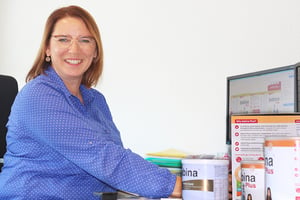 At HOCHDORF we offer our customers a 360° service. This also includes consulting on our packaging portfolio and layout creation for the customer design. Packaging graduate Michaela Arteel has played an important role in this process for the past four years as packaging coordinator at HOCHDORF Baby Care.
Michaela was born in Belgium but has lived in Switzerland for over 30 years. Although her native language is Dutch, residency for so many years in Switzerland means she also speaks Swiss German and standard German fluently, as well as English and French.
Packaging and DESIGN-TO-PRINT process in Baby Care
Michaela is our contact person for questions about the layout and printing of customer designs on our packages, including cans, various folding boxes and samples. Michaela skilfully guides our customers through all the steps in the process – from the cutting and consulting to questions regarding content and presentation.
What are your tasks as packaging coordinator?
Michaela Arteel: The role of packaging coordinator at HOCHDORF Baby Care is a highly demanding job and includes all the administrative tasks related to packaging the high-quality infant formula and coordinating labelling. There are important legal requirements here.
I work with PAS Media, a 24/7 web-based programme that controls the entire design process.
The customer creates the design with its agency (using the die cutting and specifications provided by HOCHDORF) and loads this onto PAS Media. I check the content of the design in terms of the specifications and legal provisions. Our Development department and our Regulatory Affairs department are also involved in this process.
The advantage of PAS Media is that all participants work on the same system with the most current artwork version. Once the customer gives the go-ahead for printing, I discuss the next steps with the print technician, in terms of the colour proof or involvement in the print start, for example.
Besides the design process, what else is involved?
Michaela Arteel: The design process is just one part of my work. I also create the bill of materials for the packaging for new sales items. This shows which cans, lids, measuring spoons, outer cartons etc. are required for each product. In terms of production planning, the individual articles are listed on the purchasing system as required items and ordered by the procurement department.
I also set the texts for the laser labels, such as the production and expiry date and the lot number on the bottom of the can, as well as the labels for the outer carton.
I see the role of packaging coordinator as an important hub between internal interfaces and external contacts such as customers, suppliers and printing technicians.
Since the end of February 2020, infant formula has been subject to new regulations in the EU and Switzerland. What are the implications for your work?
Michaela Arteel: Our work was very intense for a few months because we had to adapt the packaging in line with the new EU regulation for all our customers supplying infant formula to Switzerland and the EU. This affected the information on nutritional values and ingredients on the packaging. Many customers used the changes brought about by the new EU regulation to re-design their packaging. The transition period was challenging. We had to check all the old products and packaging fully and make sure that the new formulations and packaging were planned in advance to meet the specified date of the legal conversion deadline.
We were able to complete the transition within the deadline thanks to very good internal coordination and external cooperation with our customers.
What is the most exciting aspect of your role?
Michaela Arteel: My job is very varied; I work with people in different professions such as packaging designers and suppliers or print technicians, and with people of other nationalities, with different approaches and ways of working.
I can enjoy my passion for working in a multi-cultural environment and develop my creativity on a daily basis.
I grew up with a Dutch mother and a Belgian father. My parents were both professional musicians and so we travelled to many different countries as a family. I would never have dreamt that I would be able to use my native language here in Hochdorf, where I now live and where I have worked for several years, both with external customers and in the office. It's a complete stroke of luck.
What challenges do you face?
Michaela Arteel: There are times when several projects are all running in parallel. Guiding these projects through to their deadline, keeping an overview and considering the interests of all those involved is not without its difficulties.
Often one doesn't see what is behind a packaging layout and how complex it is.
It takes around 12 to 14 weeks to design and produce new packaging, if all goes to plan. We can use our experience to support customers and guide them through the process.