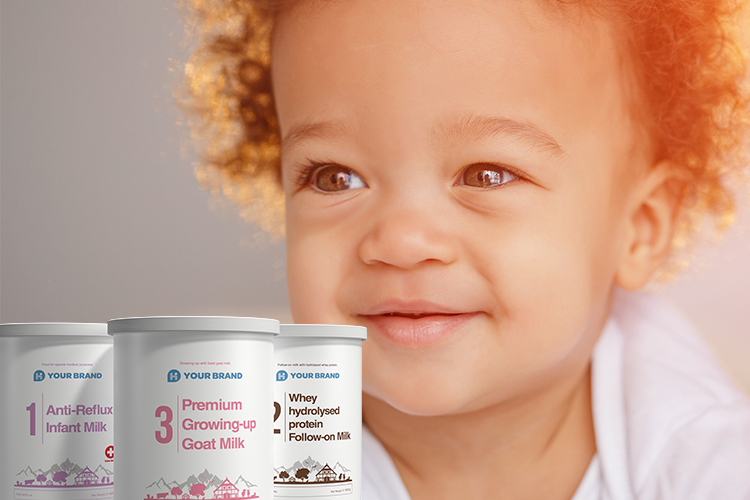 The journey towards creating your own product is easier than you think with the right partner. With our expertise and global experience, we can help you achieve your dream of creating your own infant formula or smart nutrition brand in just a few short steps. As a customer you can focus on the vision and the business plan – while we take responsibility for the time-consuming steps like registration or packaging design.
HOCHDORF is a safe bet for creating your private label: we develop products that breathe life into our customers' own brand concepts. We have been developing and producing top quality Swiss infant and follow-on formula and exporting it to over 80 countries since 1908 – as private label products or under our Bimbosan brand. We also offer Babina, a product already branded for sale in various countries. Each of our products meets the strictest international regulatory requirements; we focus on high-quality raw materials, formulations that meet the latest recommendations, modern production technologies and quality assurance systems.
Our commitment to healthy nutrition, quality and safety makes us a trustworthy partner for customers who are looking for the premium quality infant formula that will help them to achieve their own brand vision.
Our recipe for success
Producing infant formula is complex. It includes a significant amount of process steps and even more ingredients. The sequence in which the ingredients are added, the temperatures and the amount of time the mixtures are allowed to stand are crucial for the properties of the end product.
HOCHDORF's infant and follow-on formula is based on the best Swiss cow's milk, which is recognised for its outstanding quality. We know our milk suppliers personally. Their farms are renowned for animal-friendly husbandry, environmentally friendly agriculture, sustainable production and proximity to our locations. In addition to cow's milk, we also offer goat's milk-based infant formula.
Our wide range also includes products that are based on alternative sources of protein, such as soya or hydrolysed rice protein, as well as specialist foods for specific needs or medical purposes, ranging from premature babies and infants to adults.
Create your own infant and follow-on formula in five steps
We can help you to place your own private label on the market in five, carefully planned stages. Our expert team ensures effective collaboration throughout the step-by-step process. We work in tandem with you, sharing responsibility for the tasks that match our respective skill sets – such as matching your market knowledge with our production expertise.
Step 1: Individual consulting and needs analysis
As we begin to work together, we undertake a comprehensive needs analysis based on the relevant market requirements and the target group identified by you. The needs analysis plots the course for subsequent steps. We are experts in the rigorous laws and international standards that govern infant formula.
One of the best-known regulators is the EU, which provides detailed requirements for the composition and labelling of infant formula. We also follow the internationally recognised Codex Alimentarius, which was developed by the WHO and the FAO. Other examples of important regulation include the US Food and Drug Administration (FDA) standard or the Chinese GB standards.
As your partner, we assume responsibility for both legal and technical details, helping you to avoid potential pitfalls that might result in high costs.
Step 2: Defining your portfolio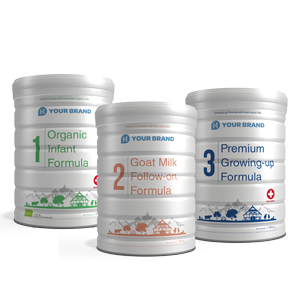 Based on your needs analysis, we provide you with a tailor-made product range that meets all the relevant legislation and standards. This can be based on our existing portfolio or we can create a new formula for you in close inter-disciplinary collaboration with our development team.
Irrespective of the path you choose – our products all reflect the latest scientific findings and trends. Our goal is to come as close as possible to the "golden standard" of breast milk and to provide you with the highest quality private label products.
Step 3: Quality assurance, certification and registration
Wir stellen sicher, dass Ihre Produkte den vorgegebenen Richtlinien und Standards entsprechen. Dazu führen wir regelmässige Kontrollen vor, während und nach dem Herstellungsprozess durch. Wir unterstützen Sie auch bei der Registrierung und produzieren Ihre Produkte nach verschiedenen Standards wie FSSC 22000, Halal oder SEDEX und EU-Bio, um nur einige zu nennen.
Step 4: Packaging and design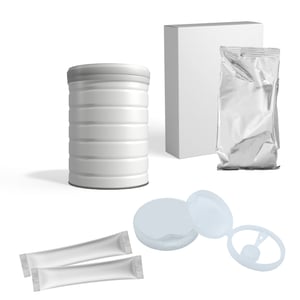 Attractive packaging can play a key role in the success of your private label product. We offer you various packaging options such as cans with spoon or snap caps, bags, refill bags, bag-in-boxes or sample sticks. Our team of experts coordinates the implementation of your design and provides you or your agency with die cuts and specification templates.
We check the content of the design against specification and legal requirements and specify the texts of the laser inscriptions such as the production and expiry dates as well as the batch number on the bottom of the can and the labels on the outer packaging.
Step 5: Logistics and transport
After the successful creation of your private label products, our logistics team makes sure that they are delivered on time and in optimum condition.
The storage and transport of infant formula require very high quality standards. Our warehouse management is supported by a fully automated high-bay warehouse.
We load sea freight containers daily and send over 11,500 lorry loads of infant formula around the world every year; compliance with strict food safety regulations is our top priority. HOCHDORF has also defined the "Good Warehousing Practise" standard, which is binding for both internal and external warehouses as well as suppliers.
Embark on your journey towards success today by contacting us for an individual consultation. We will work with you to develop your customised premium private label solution and stay with you every step of the way as you develop your own successful infant formula brand.
HOCHDORF – your first point of contact for private labels across the globe.
Download private label brochure
Further information