An interview with Evelyn Voney, infant formula developer …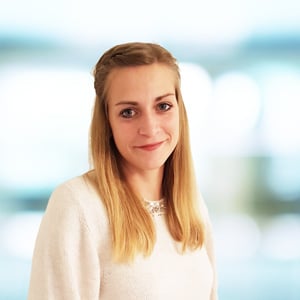 HOCHDORF has now launched for its infant formula Brand Bimbosan a new product line: premium infant, follow-on and children's formula based on highly digestible goat milk. We asked Evelyn Voney, a developer who worked on the new Bimbosan product, about the benefits of goat milk and what is involved in developing a new product.
Evelyn Voney has worked for the HOCHDORF Group as an infant formula developer for over 2 years. She has a degree in food science from the ETH in Zurich. During her studies, she investigated the nutrition of infants, focusing on their intestinal flora. After completing her Master's thesis, Evelyn worked on a study with breast milk and was able to provide the HOCHDORF Group with valuable findings.


Evelyn Voney, what are the advantages of goat milk-based infant formulas compared to products based on cow's milk?
Evelyn Voney: Goat milk is closer to breast milk in terms of protein structure than cow's milk and is characterised by its good digestibility. Goat milk contains smaller "protein globules" that can be broken down better by digestive enzymes than cow's milk proteins.
Which children benefit most from goat milk?
Evelyn Voney: Current studies show that infant formula based on goat milk is easier to digest than conventional cow's milk. It is therefore particularly suitable for children with sensitive digestion and can offer a good alternative to cow's milk-based formula for delicate tummies. In principle, however, goat milk-based infant formula is suitable for any child.
Is it possible to switch from cow's milk nutrition to formula based on goat milk?
Evelyn Voney: You can switch from milk based on cow's milk to goat milk at any point. If you have concerns, it is advisable to contact a health professional.
How does Bimbosan goat milk infant formula taste?
Evelyn Voney: Bimbosan premium goat milks are made from the best goat milk. They have a wonderful milky, delicious taste.
What makes the Bimbosan goat milk products stand out?
Evelyn Voney: As with all our infant formula, we apply Bimbosan's high quality standards to the new goat milks. We wanted to redefine goat milks for babies, so they are distinctive in many ways. In addition to the legally required nutrients such as the omega-3 fatty acid DHA, the Bimbosan infant and follow-on goat milk formulas also contain the valuable omega-6 fatty acid ARA, which is not a legal requirement. We also add the latest generation of prebiotic HMO or human milk oligosaccharides. Studies have shown that human milk oligosaccharides promote the child's immune system and a healthy intestinal flora.
Evelyn Voney, you mentioned the distinctiveness of Bimbosan goat milk earlier. Can you give us more details?
Evelyn Voney: Bimbosan uses goat milk and goat whey exclusively as the high-quality protein source for the infant, follow-on and children's formulas. We have adjusted the crucial whey-casein ratio to be perfect for growing babies and toddlers.
Where are the new products available?
Evelyn Voney: Bimbosan's goat milks are all made without palm oil, starch and, as required by law, without gluten. They are available in a handy 400 g tin with practical measuring spoon as well as in sustainable 400 g refill bags and in travel portions of 5 x 25 g. The full Bimbosan range is available in all Swiss pharmacies and chemist shops. Selected products are also available in larger Coop sales outlets and in various online shops.
What are your responsibilities as an infant formula developer?
Evelyn Voney: We are responsible for developing and optimising formulations. We evaluate the raw materials, like goat milk in this instance, carry out trial productions and storage tests, provide support in organising analyses and drawing up specifications, and accompany the initial production. Working with the other departments is absolutely crucial.
How is a developer involved in cross-departmental collaboration?
Evelyn Voney: We advise the sales department and help with marketing by highlighting the specifications and the promotional aspects. We are also in constant dialogue with the quality assurance department. It sets the strict guidelines that we have to comply with and ensures that all our products meet the high quality standards. The purchasing department provides us with the raw materials we need, and we conduct trials with the production department. Without mutual cooperation and support, our job would not be possible at all.
What were the biggest challenges in developing Bimbosan goat milk?
Evelyn Voney: Up to now, our experience was mainly based on processing cow's milk. We had to familiarise ourselves with goat milk and all its different features first. The biggest challenge was to integrate this unknown raw material into a formulation that met the strict legal requirements as well as our prerequisites for a high-quality product.
What were your personal impressions of the project?
Evelyn Voney: Personally, I was able to learn a lot as a developer. I was able to be part of a great team again and experience what it's like when everyone pulls together to make the seemingly impossible a reality.
Thank you for talking to us and providing such an interesting insight into your work.
---
About Bimbosan
A member of the HOCHDORF Group of companies, Bimbosan has been producing first-class specialist infant nutrition since 1932. It is proud of its long-standing Swiss tradition and its roots in Switzerland as a production location. Made from natural ingredients such as milk and whey, HOCHDORF products have been contributing to our health and wellbeing since 1895 – from babies to senior citizens.
More information