An interview with our Supplier Quality Specialist Iuliia Huber…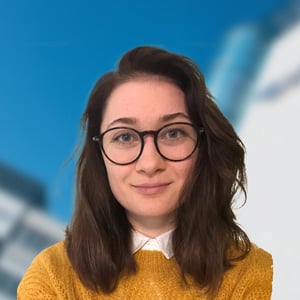 Infant formula is a highly sensitive product. Because it's all about the well-being of our little ones. In order to protect this consumer group, there are rules that have to be adhered to – whether they relate to composition, packaging or marketing.
Our Regulatory Affairs Team is responsible for implementing food regulations at HOCHDORF Swiss Nutrition Ltd. It plays a key role and fulfils an important hub function between internal and external agencies.
A competent team with diverse functions
Our Regulatory Affairs Team consists of five employees with wide-ranging tasks. Iuliia Huber is one team member. In this interview we find out more about her work.
About Iuliia Huber
Around 7 years ago Iuliia came to Switzerland from Ukraine for an agricultural placement. Fascinated by this little mountain country with its funny language that is spoken but not written down, she decided to study at the School of Agricultural, Forest and Food Sciences HAFL in Zollikofen (BE). She has since been working at HOCHDORF for over two years.
Interview


What are the key functions of the Regulatory Affairs Team?
Iuliia Huber: The Regulatory Affairs team covers a broad range of tasks, which enables us to work with all departments. We deal with questions relating to food regulations, coordinate label projects and provide support with completing audits. We are also responsible for checking end product specifications and ensuring that our products comply with current legal requirements and are manufactured in accordance with the latest food safety regulations.
Each team member has specific functions. What are yours?
Iuliia Huber: I am responsible for all the processes related to raw material and packaging quality agreements. So I work with various internal departments such as procurement, development and quality assurance. I am also in regular contact with suppliers. I clarify issues with them, such as questions relating to documentation. I also work on developing HOCHDORF's internal quality management. We are currently preparing a new programme that will allow us to create quality agreements electronically and to monitor them online. This will make our work a lot easier and bring benefits to our suppliers too. I also support the Regulatory Affairs team with label management.
What does label management mean?
Iuliia Huber: If a product is produced and sold under a certain label, for example as an organic, halal or kosher-certified product, the production process, the raw materials and to some extent also the packaging materials have to comply with the specifications of these labels. In our team we check if these specifications are being met. Specific criteria are defined, which allows us to quickly identify any non-conformity. So we are in constant dialogue with the internal teams as well as our certification bodies. Clean data maintenance and filing for documentation are the key elements of this work.
What is the most exciting aspect of your work?
Iuliia Huber: I like working with different internal and external departments and people and I enjoy being able to coordinate processes. My role is extremely varied and stimulating. I have contact with lots of people related to our raw materials and end products. I love solving problems and tackling complex tasks and situations.
What are the main challenges of your role?
Iuliia Huber: We have very high quality requirements for our raw materials. Our suppliers rarely come into contact with infant formula producers so they find it difficult to understand these requirements. So it's our role to explain the requirements; we need to show why the specifications are important and must be adhered to, with no exceptions. It takes a certain persuasiveness and determination to find common ground.
How do HOCHDORF and ultimately the customers benefit from your work?
Iuliia Huber: In a nutshell, my role is to guarantee safe raw materials – which is synonymous with safe food. My work helps to ensure the quality of the end product as defined by law, which is very satisfying and worthwhile. It always motivates to give my best every single day. When I see happy and grateful customers, it means I've done a good job.

Iuliia, thank you for the interview and for providing such a fascinating insight into your work.