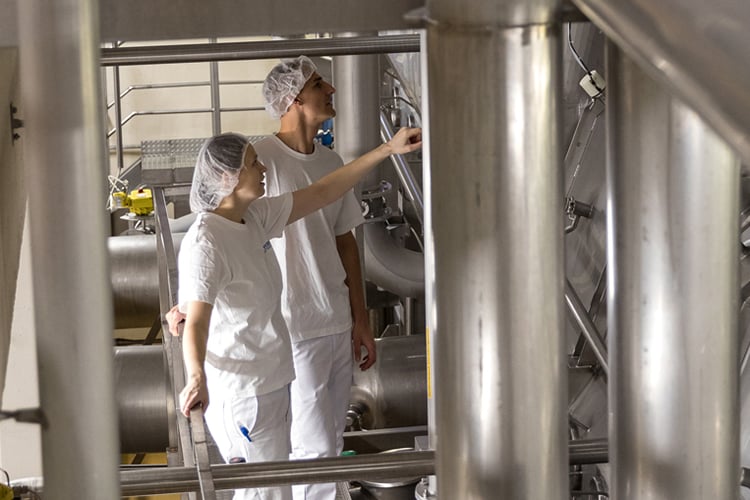 Creamy ready-made soups and finest cream sauces, bakery products and sweet creams are frequently produced in Switzerland using HOCHDORF fat or butter powders. This is because Hochdorf is home to the only filtermat spray tower in Switzerland able to make products with a fat content of up to 78 per cent.

For ambitious and challenging products
The spray tower Niro 4 first became operational in 1995 and is a filtermat spray dryer. This type of spray drying is specially designed for drying hygroscopic, thermo-plastic and slowly crystallising raw materials. This means that the filtermat can dry high-fat, glutinous products with a high proportion of butter, sugar, vegetable fats and oils.
The Hochdorf plant's spray tower is unique across Switzerland in pro-ducing high-fat powders for ready-made sauces, soups, bakery products and much more besides.
The filtermat is a technologically ingenious system with a main drying chamber and a belt for targeted secondary drying or cooling. The system can be cleaned without leaving residues. From an allergen point of view, it is possible to dry highly sensitive products on the spray tower. This includes lactose-free milk powder, infant formula and products for special, medical nutrition requirements.
A wide product range – top customer service
Our customers really appreciate the uniqueness and quality of Niro 4 products. The products are particularly well known on the market as NOVITTA ( fat and butter powder ) and LEDOR RP ( cream powder ). The sprayed LEDOR cream powders have a particularly intense milk aroma and are used for the highest quality bakery products. Under the NOVITTA brand, HOCHDORF develops and sells high-fat products used for ready-made soups and as a base for creams. HOCHDORF is able to combine the most diverse carriers and fats with each other. The NOVITTA fat powders frequently combine a milk-based carrier and a vegetable fat.
But we also produce customer-specific products on the filtermat, supporting our customers with their chosen products and with product development. Over the past 25 years, we have acquired substantial know-how in working with the filtermat and its capabilities, which is greatly appreciated by our customers. Technical improvements enable us to produce infant formulae, special foods for medical purposes and vegan powders on the filtermat.
---
Captions
Header: Aline Schär, Head of Production at Niro 4 and Development & Application Product Manager Joshua Wölfle ( right ) inspect milk powder production at the Niro 4 spray tower in Hochdorf. (Photography: Brigit Willimann)
In text: Some of the Dairy Ingredients Sales Team discusses the daily business ( from left: Elisabeth Fleischli, Lukas Wilhelm, Jesabelle Summermatter, Christian Fanger ). (Photography: Brigit Willimann)