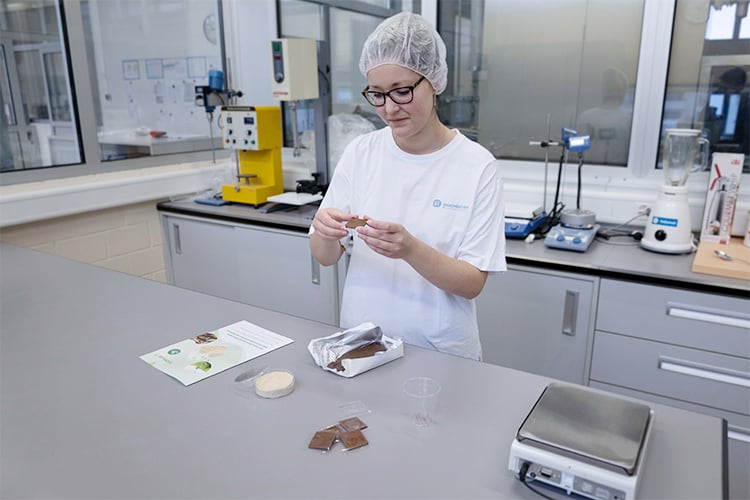 Interview with Charlotte Perich, Research & Innovation Team Functional Ingredients.
With its innovative VIOPLUS product offering a vegan alternative to milk powder, HOCHDORF is developing a novel, modular solution concept for plant-based milk chocolate and other products – incorporating all the properties of milk. Apart from one – its animal origin.
Charlotte Perich, a developer at HOCHDORF Swiss Nutrition Ltd, was instrumental in the success of the VIOPLUS concept. Learn more about the vision and the benefits of the vegan milk powder in this interview.
Charlotte Perich, can you give us a summary of benefits of VIOPLUS?
Charlotte Perich: Firstly, and crucially for both consumers and producers: when it is used in chocolate, there is no difference in sensory terms to conventional milk chocolate.
Secondly, VIOPLUS is refined on the same equipment; in terms of technology, it is processed in the same way as milk powder.
Thirdly, VIOPLUS can replicate many milk powders as a plant-based alternative and has the same nutritional values as milk.
Fourthly, and unlike conventional milk powder alternatives, VIOPLUS has the same microbiology.
And fifth – but no less important: our vegan milk powder is 100% produced in Switzerland and is allergen-free. Unlike most conventional alternatives, VIOPLUS does not contain any nuts, yet still gives chocolate a creamy quality.
We all love the sensory qualities of milk chocolate, such as its delicate melting or delicious caramel flavour. Is it possible to achieve this with VIOPLUS?
Charlotte Perich: VIOPLUS offers a completely authentic chocolate experience. Taste, colour and melting are identical to milk chocolate. When VIOPLUS is dried on the roller, it acquires a balanced caramel taste, just like milk powder. Thanks to the fat used, VIOPLUS also has the same melting properties. These are all essential qualities for perfect Swiss milk chocolate.
For industrial clients, functional aspects are just as important as sensory considerations. Does VIOPLUS meet the brief here too?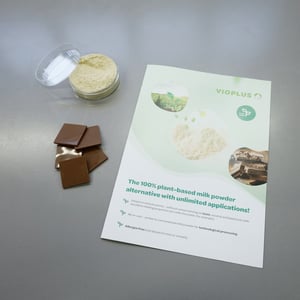 Charlotte Perich: Chocolate manufacturers often face major challenges in vegan chocolate production. Using VIOPLUS overcomes these issues because its properties are identical to milk powder. It represents the ultimate in convenience, with no additional mixing required.
VIOPLUS can replicate many milk powders as a plant-based alternative and has the same nutritional values as milk.
VIOPLUS can replace milk powder 1:1 in terms of functionality and handling in almost every chocolate application because we use the same technologies and modular solution concepts in production.
This removes the need to add several components, as is usually the case with vegan chocolate. VIOPLUS is simply thrown into the mixer like normal milk powder during rolling and conching – and then processed normally.
VIOPLUS is a modular concept. What does this mean?
Charlotte Perich: VIOPLUS is an "all-in-one" blend. It is based on the three macronutrients of carbohydrates, fats and proteins with different fat, protein and carbohydrate sources to choose from. Our customers select the appropriate options from each source and decide their percentages.
What are the advantages of this modular concept?
Charlotte Perich: Our customers can put together a vegan milk powder substitute to suit their specific application. Depending on the choice of fat source, for example, the melting point of the chocolate is higher or lower. This results in a softer or harder chocolate end product.
Is it difficult to get the composition of the VIOPLUS mixture right?
Charlotte Perich: We advise our customers on the modular composition of VIOPLUS and support them every step of the way. Our expertise in chocolate applications and customised production is unique in Switzerland. We are happy to share this with our customers.
What finishing processes are used to produce the vegan powders?
Charlotte Perich: Our vegan milk powders are roller or spray dried.
What are the properties and advantages of roller-dried VIOPLUS?
Charlotte Perich: Roller-dried VIOPLUS is ideal for making vegan chocolate. The roller-drying process gives VIOPLUS an ideal platelet structure for chocolate production with a low pore content, high free-fat content and low water content. The intense caramel flavour is excellent, which is also impressive.
And what are the advantages of spray drying?
Charlotte Perich: VIOPLUS as a spray powder has the same properties as our spray-dried LEDOR milk powder, including good solubility and pourability. The neutral taste also makes it a perfect all-rounder. In terms of how it looks, it is a slightly lighter colour than roller-dried milk powder.
What applications are suitable for VIOPLUS?
Charlotte Perich: VIOPLUS can be used wherever you want to replace milk powder with vegan or plant-based alternatives, such as vegan chocolates, soups, sweet and savoury baked goods, meat substitutes, vegan cheeses, etc. We can replicate numerous milk powders as plant-based alternatives through our modular concept.
How long did it take to develop VIOPLUS and what were the challenges?
Charlotte Perich: The development took about a year. Our challenge was to develop an allergen-free and nut-free alternative. We had to find fat sources with the same melting properties as milk fat and protein sources with comparable functionality to whey and casein.
Charlotte, thank you for your interesting insights.
---
About Charlotte Perich:
Charlotte has been working at the HOCHDORF Group as a developer for two and a half years, focusing on milk powders and plant-based milk powder alternatives for the chocolate industry. She has a degree in food science from the ETH in Zurich. Her interest in chocolate started during her studies and she worked on improving the fat bloom stability of products for a Swiss confectioner during her Master's thesis.