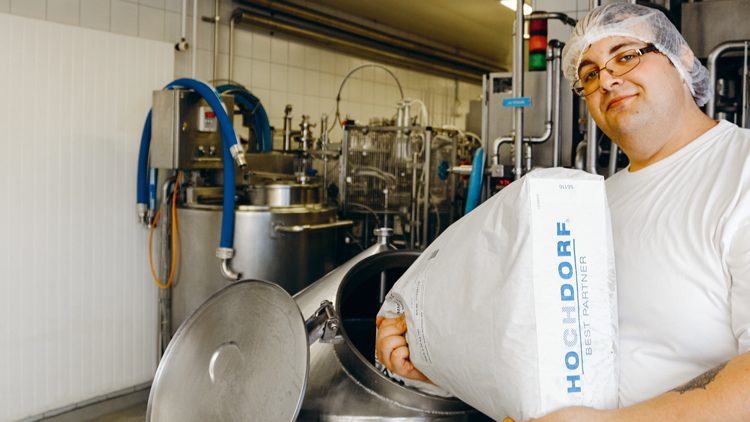 A picture book summer's day, cloudless sky and temperatures that make you long to cool down. Is there anything better than a
really cold ice cream or an ice cream ­speciality? Especially if it's from the finest Mister Cool production. Our LEDOR skimmed milk powder is an essential part of the product.
A baking hot July day with temperatures of over 30C. At the edge of the Jura mountains, in rural Zuchwil, Mister Cool's ice cream making machines are working at full speed. Philipp Schmid has been production employee at Mister Cool for many years and he works in the best place to be today – the busy ice cream production area is pleasantly cool. A delicious strawberry ice cream is currently in production. Philipp Schmid is just mixing a new batch. "We only use Swiss ingredients as far as possible," he says proudly, grabbing a 25 kilogramme bag of our LEDOR skimmed milk powder and pouring the contents into the mixer – as easily as if it were a carton of light frozen yoghurt. More ingredients also go into the mixer, including Swiss sugar, fruit concentrate, natural stabilisers and emulsifiers along with fresh skimmed milk, cream and a little beetroot juice.

A seductively sweet strawberry cream aroma drifts towards me. The ice cream mixture is now pasteurised by heating and then placed in the freezer. Constant stirring introduces air into the mixture. A delicate strawberry milk froth is created that is subject to a constant freezing process in the ice cold freezer, where it is skimmed off and stirred in over and over again.
A summery mood on wintry days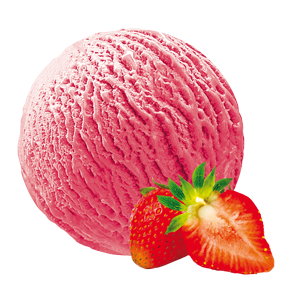 Lost in ice cream dreams and fascinated by the frozen strawberry milk froth, I gaze into the freezer. A man's voice behind me brings me back to the real world: "The classic ice cream flavours like strawberry, vanilla and chocolate are still the strongest-selling products but exotic flavours such as blueberries are growing in popularity." The voice belongs to Daniel Jüni. The owner of Mister Cool AG wants to ask Philipp Schmid about the current production run. After a warm greeting, he quickly adds: "We don't want to create a false impression; even in winter we're in summery mood." It is no coincidence that the company works at full capacity all year round. The imaginative and diverse creations of the "Swiss House of Ice", as the company likes to be known, are now familiar to ice cream lovers from all over Europe and beyond.
Creative minds come together
The most creative gastronomic minds are now thinking beyond the sweet varieties of ice cream. Sorbet Provençal peps up cold or warm tomato soup and the company's mountain herb double-cream ice cream is a perfect starter. There are limitless opportunities for gourmets with Mister Cool. "Gastronomy is very theme-oriented these days; one week it's rose, the next it's basil. We now often produce very specific ice creams in very small quantities and we are delighted to do so."
Gastronomy is very theme-oriented these days – one week it's the rose, the next it's basil.
It was very different just a few years ago. "Even on winter days, creative chefs broke out in a sweat trying to conjure up imaginative ice cream desserts," says Daniel Jüni. He should know; before he became Mister Cool he was an experienced hotelier and Food & Beverage Manager in well-known gastronomy businesses. "Creating surprising ice cream desserts became increasingly challenging; more and more ice cream producers merged and the industry grew short on ideas and flavour diversity."

Daniel Jüni was looking for an ice cream specialist flexible enough to respond to individual requirements. But then a company called Mister Cool AG arrived on the scene. Business relations were quite relaxed in the early days but they soon became more intense. Daniel Jüni is now the successful Managing Director and sole owner of Mister Cool AG. He is a great example of how a small production company can be successful in the fiercely competitive ice cream market.
Promising cool products – LEDOR skimmed milk powder
What makes a good ice cream? Daniel Jüni focuses on a small number of high-quality basic ingredients. Our LEDOR skimmed milk powder is an essential ­part of the product. In Mister Cool ice cream and frozen yoghurt, it provides the perfect structure and a pleasant sensation in the mouth, stabilising and balancing the dry mixture.
LEDOR skimmed milk powder provides the perfect structure and the pleasant taste sensation in Mister Cool ice cream and frozen yoghurt.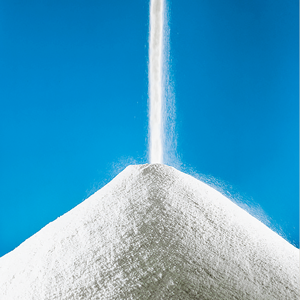 LEDOR skimmed milk power provides the creamy ice cream consistency

Our LEDOR skimmed milk powder plays a large part in ensuring the consistent high quality and correct composition of the ice cream mixture. It adds the milk to the ice cream in a concentrated, easily soluble form. This stabilises and balances the dry mixture and guarantees a constant, seamless process – ensuring the strawberry ice cream, for instance has a full-bodied taste and an airy summer freshness.
The ice cream producer consciously focuses on "Swissness" when selecting its raw material suppliers. And for good reason. Switzerland is steeped in a tradition of high quality and reliability, offering the highest hygiene standards and well known for its most stringent environmental regulations. This makes for high-quality, pure products. When asked what he specifically likes about HOCHDORF, Daniel Jüni answers spontaneously: "The good service, the reliable product quality and the committed employees." It's great to hear Daniel Jüni's answer: we also have a strong focus on Swiss quality and the highest production standards when producing LEDOR skimmed milk.
Here at HOCHDORF Swiss Nutrition Ltd, 100 % of the milk we use comes from Swiss farms. Our two modern milk plants are located in a stable, rural environment in central and eastern Switzerland, close to the milk suppliers. The short transport links ensure that HOCHDORF keeps its precious ingredient of milk very fresh for processing under optimum conditions.
With an eye on customer benefits and quality, Mister Cool and HOCHDORF are two innovative companies that are well matched: they each live out Swiss values and have similar objectives. While HOCHDORF develops milk powder matched to its customers' particular applications, Mister Cool offers a range of products designed to meet its clients' specific individual concepts.

Mister Cool's business is booming and production is ready for the next batch – blueberry ice cream.
We are delighted by this fine berry ice cream and ready to play our part with our LEDOR skimmed milk powder.
---
Further information
Pictures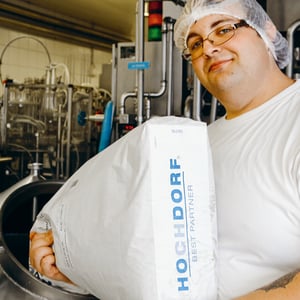 Philipp Schmid, long-time production employee at Mister Cool, produces strawberry ice cream. LEDOR skimmed milk powder has the ideal dissolution properties and a delightfully pleasant flavour. It peps up ice cream and frozen yoghurt, adding the perfect finishing touch.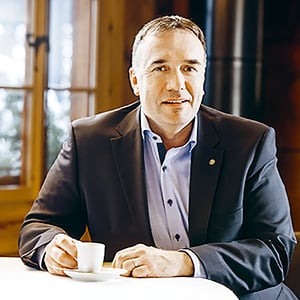 Daniel Jüni
owner and
Managing Director
of Mister Cool AG